By Barbara Boyd and Jenn Sanders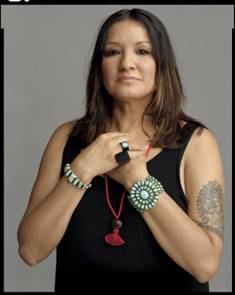 GROSSMONT COLLEGE — Author Sandra Cisneros imparted some writing tips during her appearance on campus Thursday, April 26,as part of the annual Literary Arts Festival.  Some of them may surprise you.
For example, she suggested, "Do not talk on days you write, it allows the words to flow better." Another bit of advice was: "If you are having a hard time trying to write, try to meditate…Try to bring yourself back to the dream state because your mind creates stories every night."
The day before her appearance, the English Department  celebrated the author of The House on Mango Street by announcing the winners in an English 98 writing competition named for that book.   Niajib Abraham won first place for his "The House That Moves," and second and third places were accorded respectively to Taylor Denmar and Fernando Rico. 
All three students wrote essays which, like Cisneros' books, dealt with the concept of  "home."   Because Cisneros's parents moved her family including six brothers  back and forth between  Mexico and the United States, the concept  of home was an elusive one for the author.  A long, well-researched article on Wikipedia tells of the Chicana author also struggling with her identity.  She was of Mexican parentage, yet she grew up in an Anglo neighborhood, seemingly belonging to neither culture or perhaps to both.  The notion of hybridity is an important concept in her writing.
Cisneros was able to escape from childhood poverty to anywhere she wanted through her writing.  Her talent and persistence paid off when she earned a degree in writing at Loyola University in Chicago.  After House on Mango Street, Cisneros again won acclaim with the collection of short stories  Women Hollering Creek.  The collection shreds the Cinderella myth in which a handsome and charming prince rescues a beautiful girl from a life of drudgery.  In so doing, Cisneros' use of  sex, language and violence in the short-story collection has prompted criticism, even occasional banning.
As she became more and more successful, Cisneros did not forget her sense of mission.  She established the Macondo Foundation, named after the town in the novel One Hundred Years of Solitude by Gabriel Marquez Arce.   The Foundation focuses on developing social consciousness among writers.  The author also created the  Alfredo Cisneros del Moral Foundation, named for her father, which provides scholarships and monetary awards to writers in Texas, where Cisneros now lives.
At the Thursday event, April 16, Cisneros advised writers in her audience, "don't throw away anything you think is not good."  She explained that the material might be used later on in another part of the story, or perhaps in a different story altogether.
She also advised: ""The way to write the story is to get into the body of the character, then into their heart" and "Everyday everyone needs art, it's medicine for the spirit."
The author previewed one of her newest works, Where is Marie?, which she described as a story that "is for orphans."  It is scheduled for publication on Oct. 11.   Following her lecture and reading, fans lined up at a table,  where Cisneros autographed her books.
*
Boyd and Sanders are GC Summit staff members who may be contacted respectively at barbara.boyd@gcsummit.com and jenn.sanders@gcsummit.com