Banned Books, Banned Lives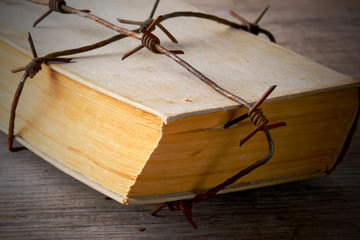 Event paves the way for must-have conversations.
In our current and past political and cultural climates, there has been a lot of pushback on people who do not seem to fit the into society's shared agenda and values. Those who have a mental illness, those who are racially discriminated against, those who are in poverty and those who are victims of sexual assault are often ridiculed and not given a chance to speak. These topics and issues are important, and the need to talk about them is crucial. While such topics (and people) have traditionally been suppressed, Grossmont College is providing a growing platform for these necessary conversations.
Grossmont's English Department and Creative Writing Program have been celebrating banned books as a part of the Fall Reading Series for many years now, but only recently has the program gone from primarily focusing on banned books to providing a place for censored voices — or "banned lives," as this year's theme put it — to speak up.
Program director Alan Traylor said the event has "evolved a lot" since the focus on banned lives began two years ago. Now called Banned Books, Banned Lives, the event has moved from censored books to "stories of people who are marginalized," and expanded to "include stories from 'banned people,'" Traylor said.
This year's event featured a strong and diverse group of performers who were either censored voices themselves or advocates for censored and banned voices. All were there to inform, share and inspire.
The first reading was performed by Erica Blunt, an alumna of Grossmont's Creative Writing Program. Blunt read an excerpt from the novel "Speak" by Laurie Halse Anderson, which tells the story of a teenage girl who was sexually assaulted at a party and her journey of coming to terms with what happened to her while facing the ridicule of her peers.
The novel has faced censorship because of its mature content, but Blunt said she chose it because it is relevant to today, especially in light of the #MeToo movement. It was important to include to shed light on "why women don't feel safe to say anything" when they experience sexual assault or harassment, Blunt said. Often, victims of sexual assault are criticized and rejected. Such treatment suggests our society is purposefully avoiding this discussion, and by doing so, is discouraging women from speaking up because, as Blunt said, they are "afraid of people's reactions."
Vera Sanchez — teacher, dancer and writer, to name a few — also read an excerpt from an original story of hers that described her first kiss with a girl and, a few years later, what it was like with her boyfriend. The excerpt contained mature content, and when reading it, Sanchez light-heartedly said it was "banned from her family."
Regarding her performance at the event, Sanchez said her purpose is "to help other people " when it comes to censorship because "people are too scared to step on toes." For those who live "banned lives," literature and arts may be a way for them to speak up and share their experiences in a world that is trying to suppress them. The awareness of censorship by others is important because "in a time like right now, we need people who can inspire our writing or art," Sanchez said.
Not only do we need inspiration, we also need others to support and encourage those who are marginalized and "banned." Grossmont student Cayla Vizcarra did just that. Vizcarra read personal and original work on mental illness, which is often a taboo subject in our society. Unfortunately, sometimes those with mental health problems are labeled and marginalized, negatively portrayed and left with little room to voice their experiences.
Depression was the topic of Vizcarra's reading. Vizcarra said it is important for her because "depression is not really talked about." Mental illness is not what defines a person
but it can be a factor in how they live their life; whether that is negative or positive is the influence of a society that sees mental illness as "banned" or not. Regardless of the stigma around mental illness,Vizcarra said, "It is okay to have something that you are not proud of that you can overcome gradually."
Providing powerful words, Brendan Praniewicz — an English instructor at Grossmont College, as well as author and stand-up comedian — advocated for "banned lives" by reading an excerpt from his original short story "Aliens." Praniewicz's story provided a positive perspective on the homeless community and a message that they deserve better than what our society has given them. Like the other marginalized voices of this event, those who are homeless are seen as a burden, and are often avoided or "banned."
When speaking about the event as a whole, Praniewicz said it is "about microcosm experiences that are underexposed," with experiences ranging from "mental health to abuse." Being able to hear stories, original or not, from others is a great opportunity for those who are marginalized and others to learn about the importance of censorship and the "banned lives" that can be a result of it.
Having events where marginalized voices are given a platform is exactly what is needed to start recognizing censored literature and "banned lives" as legitimate and important. The San Diego Poetry Slam team showcased spoken word performances that touched base on all the topics of the other performers. Nationally-ranked poet, activist and member of the team, Natasha Hooper,  said the Banned Books, Banned Lives event is a "catalyst for people to have important conversations about life experiences in this country and world."
This year's Banned Books, Banned Lives provided more insight into "banned lives" and the experiences of marginalized voices. From nationally-ranked poets to Grossmont's own faculty and students, each performance was unique and insightful as to how our world has created ideas of "banned people" and taken away the chance for them to share their stories, art, writing and life with the world.
The takeaway from the event and advice for next year is to attend "with and open mind, be okay with being uncomfortable, and enjoy," Traylor said.