POKEMON DETECTIVE PIKACHU
Detective Pikachu hits theaters two weeks after Endgame and two weeks before Aladdin, giving it the right amount of time in the middle to make its debut.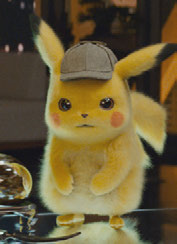 The film follows the story of Tim Goodman (Justice Smith) trying to find out the real reason his father Harry Goodman went missing. In the aid of the investigation, Tim's father's old Pokemon partner, Detective Pikachu (Ryan Reynolds), joins in on the adventure. Tim is the only one who can talk and understand the wise-cracking Pokemon, leading to the hilarious teamwork of two unlikely friends.
So, what can we expect? Pokemon is a huge franchise already, and with Pikachu being voiced by Reynolds it is sure to bring in many people. The expectations for the film are that it will gross in about $75 million. Also with a high cost of about 30 familiar Pokemon, it sure to draw in fans to see their favorite characters come to life.
The fact that Reynolds is playing the role of a beloved and most popular character, is leaving us hanging on the edge of our seats to see what he has in store. Reynolds is known mostly for his role as Deadpool, and I think all of us are hoping a little bit slips out in Detective Pikachu.
Visit us online at gcsummit.com for more coverage of this film.