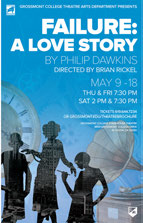 It's not just another love story. Failure: A Love Story tells a tale of death, recovery, celebration and yes, love. Ultimately, these elements contribute to the magic Theatre Arts Instructor Brian Rickel described. "There's magic in what we do in the theater," he said. "There's magic in literature, there's magic in
science, but what we do is magic, too."
Set in Chicago in 1928, the play features a character who falls in love with the three Fail sisters, all who eventually die. The main character, Mortimir Mortimir, first falls in love with the youngest sister, but she dies. He then falls in love with the middle one, she also dies. He then falls in love with the eldest sister as she's dying. Rickel said: "There are no spoilers in this— we know everyone dies in the play."
From the beginning of the show, the theme of death is made very clear. However, the message focuses on accepting death instead of being overcome by its grave nature. Mourning loss is shown in the play as a crucial aspect of celebrating life and moving forward. Rickel said his favorite line from the script was, "Tell them I'm on my way."
He explained: "I think that's a beautiful statement about death. Its OK to say, 'I'm coming…somewhere. My energy is about to enter another place and time.' And if we are just a ball of energy, energy doesn't stop. It just keeps going, right? So, what a great way to look at death."
Other themes to look forward to include the concept of time. The Fail family owned a clock shop in Chicago. Their view and value of time is evident through the show as they race against the clock seeking love.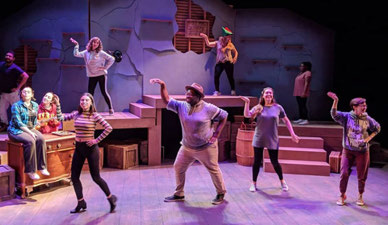 Ironically, the production is under its own time limits, as the actors rehearse in preparation for opening night on May 9. The show runs for two weekends at the Stagehouse Theatre at Grossmont College. The whole theater department is working to perfect the final outcome of the show. Costume designer Joan Mathison recreated the 1920s iconic costumes and hair to transport the audience back in time. Old lath and plaster adorn the stage, designed by Michael McKeon, to mimic Chicago architecture.
Rickel described the critical collaboration between scene shops, costume shops, producers, directors, actors, musicians, lighting designers and sound designers as the key factor to a successful show. Failure: A Love Story also included the collaboration of Grossmont's music department for the show's music score.
"This play terrified me more than any other play I've ever directed," Rickel said. "It was scary."
He attributed this to the fact that playwright Philip Dawkins gives no specific rules for creating this piece. However, Rickel is embracing the challenge. "Passion demands you face things you're afraid of," he said.
As a director, Rickel is focusing on incorporating theater styles called physical movement and moment work to the show. To fully appreciate the unique stylization, Rickel said, "I really hope the audience comes to this with a very open imagination."
Grossmont student, Kalina Luckenbach, said she attended one of the theater department's shows earlier in the semester. Although it was her first experience with a Grossmont play, she enjoyed the production and said, "I am interested in seeing more performances in the future."
The cast of Grossmont students varies from actors who have trained with the department for many semesters to actors who are approaching the stage as their first theatrical endeavor.
This variety is crucial to a production because Rickel said, "There's something magical that happens when you get a group of people of different levels of experience to face a challenge like this." Rickel said he encourages all students to come to a performance because Failure: A Love Story is "literary, poetic."
He elaborated: "It's a beautiful piece of soulful theater, and it's unlike anything you've ever see." "Yes, Avengers is opening. I get it," Rickel said, "Give yourself an opportunity to spend 10 bucks as a student to come see a 90-minute
piece of theater that you'll never share that moment with anyone else."
The show runs at 7:30 p.m. from May 9 to 11 and again on May 16 to 18. There are also two 2 p.m. matinée performances on May 11 and 18. Tickets are available to purchase on Grossmont's website or at the box office on campus (Building 22A).