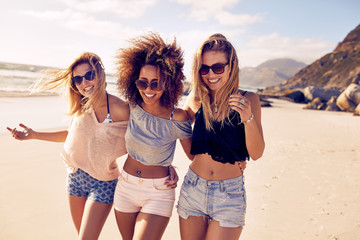 As the San Diego sun shows its face, your wardrobe should be changing to cater toward summer activities.
Whether you're going to the beach, hiking or spending a warm afternoon with friends, you probably have one lingering question: what to wear?
Grossmont students (and fashionistas) Brivin Yousef, Shealy Reynolds and Marymay Peterson give their best fashion
tips for your best summer self.
TOPS
"I like easy, light t-shirts. Like graphic tees," Yousef said. "I mostly go for solids and lately I've kinda just been digging oranges, yellows, different shades of warm colors."
Reynolds also said her current color choices for summer are light pink or rainbow, while Peterson said she gravitates toward white and off-white.
Tops are the most common and effortless article to incorporate a pattern or statement.
"Right now, animal print is super in. I love animal print," Reynolds said. "I also like polka dots and stripes. They're super easy to mix and match."
Peterson said, "I love stripes— all the time!" Choosing shirts with breathable fabrics such as cotton, rayon and linen are essential to remaining cool and comfortable in the high temperatures.
BOTTOMS
While denim shorts are a classic choice to pair with any top, there are other options, such as colored pants for a more chic evening event.
"I have these pink trousers that I always go to when I want to look a little bit fancy," Yousef said. "It pairs well with linen shirts, too."
Jean skirts can also be dressed up or worn casually. They are versatile and available in different colors, styles and lengths. "I have a jean skirt that is a very good go-to," Reynolds said. "It's super easy to wear with everything, and it's not restricting or anything. I wear it with a crop top, a long sleeve or a tube top."
Short and long overalls are an easy piece that can be versatile depending on the top you choose to wear with it. Yousef said, " I feel like whatever you wear with , it'll look like you spend so much time."
SHOES
Although Rainbow Sandals or Birkenstocks often dominate the summer shoe game, there are other choices to bring
variety and color to outfits.
"Your shoes are very important too. I feel like shoes are slept on," Yousef said. "Even if you wear something really basic, if your shoes are great, your shoes are great!"
If you, like Yousef, don't wear sandals, choose closed-toe shoes that are troublefree, such as slip-ons instead of laces.
Trying a newer trend, Reynolds said: "Recently I've been wearing platform sandals which is fun. I wear them with skirts, dresses, sometimes jeans." She added: "But usually I stick to sneakers because they go with dresses and skirts too, a little more tomboyish."
Colored and patterned shoes are a simple way to incorporate variety into your attire if you tend to gravitate toward
neutral clothing. However, if you enjoy bright summer colors and designs for your clothing, a neutral shoe will keep the focus  on your statement pieces.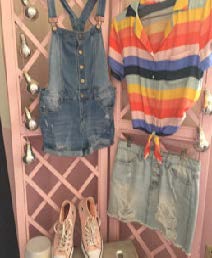 BEACHWEAR
Spending an afternoon in the ocean or a night around a sandy bonfire requires different style choices.
"Neon. It's such a thing! I got a neon bathing suit recently that I really like," Reynolds said. Neon is a dramatic contrast to most skin colors and can create the illusion of a bronzed, sun-kissed glow.
She also said she recommends dresses: "They're super easy to throw on. Short and strapless is fun for a throw-over at the beach."
Peterson said: "Usually, I end up wearing shorts with a bikini top. Or I found a cute striped one- piece that I wear with shorts so I don't have to worry about a shirt."
Hats are a perfect accessory for the beach and are also functional for sun protection. Floppy hats or baseball hats are both options for different outfit styles. Along with hats for sun protection, sunglasses are vital for a day on the shores.
A pop of color or fun shaped eye-wear can update a simple outfit. "I have a cat-eye sunglasses that I wear with a lot of things," Reynolds said.
SHOP SMART
Although earth-friendly movements such as reusable straws and bags are popular, it's often forgotten that clothing is also creating waste on our earth. Yousef is mindful of the trash and waste accumulation due to fashion. She said: "It's
getting bigger and bigger the more advanced technology is getting because it's so easy. Obviously they're going to
make it cheap for you to buy it and consume it even more."
She continued: "It's a different way to look at it. I think fashion is one of the highest reasons why the earth is so polluted. Isn't that crazy? Some of the fabrics don't even get recycled correctly, so it just stays for a very long time."
To help combat the excess waste, Yousef is an advocate for thrift  shopping— also popularly referred to as "thrifting." She said she loves her clothing from secondhand shops because, "They last! The quality is definitely better, and it's more ethical."
She continued: "Especially lately, I've been seeing a lot of online stores that are really unethical. A lot of them, their employees aren't paid enough. So it's mostly made in sweatshops, which is why the materials are not good."
Peterson also likes shopping at thrift stores because of the cost efficiency. She said: "I hate spending money on clothing. I like to find it way cheaper or used."
Peterson recommended one of her favorite consignment stores, Buffalo Exchange, while Yousef said she regularly uses the app Depop.
"I love finding new items at thrift stores. Or not even new items but brand items at thrift stores. It's so satisfying to find something for $6 when it's originally $50," Peterson said.