It's not every day an alarming emergency happens on campus at Grossmont College, but if one does, the faculty and staff are ready for it.
Lorena Ruggero, the director of College and Community Relations at Grossmont, said there are
many different ways Grossmont can notify people in the event of an emergency and tries to use as many methods as possible.
From outside amplifiers to social media updates, Ruggero does her best to make sure students will be informed on and off-campus in the case of an emergency. There is a wide variety of roles several employees at Grossmont fill during an emergency and they could be called at any time to provide assistance for an emergency if necessary. 
Ruggero's role as the public information officer means it is her job to write the announcements that go out to people when there is an emergency on campus.
Ruggero said when looking at employee training for emergencies on campus, it's not as simple as how do "I" respond to an emergency, but it's what would "we" do to make sure that we communicate appropriately.
If something were to interfere with classes, they have to plan and decide where to go from there.
Every semester, the personnel on campus who oversee emergency services practice, so if something does happen, they will be ready, according to Ruggero.
They conduct an exercise by creating an emergency scenario and deciding how to respond if that event really happened. They also determine what they might do differently in a real situation.
According to Ruggero, in an event where people need to be evacuated, Grossmont has a program called the "Building Marshals" and there is a marshal for every group of buildings on campus. 
Ruggero explained he marshals put on hard hats and safety vests to make sure everyone exits the building safely and lets them back in when it's clear.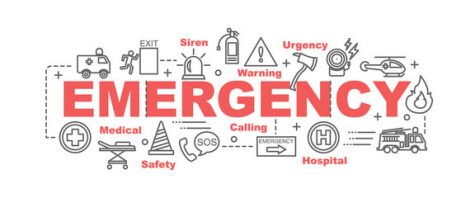 "There's a lot of folks who are here to notify people so that in the event of an emergency, you don't technically have to be trained, you just have to listen, follow the orders of say a building marshal or if Public Safety is on campus, a Campus and Safety representative or the sheriff 's department," Ruggero said.
"As long as you listen to those folks, then you should be OK." 
Carlos Figueroa, a Grossmont student, said he believes he would be prepared if an emergency takes place at Grossmont.
However, he said he does not feel campus officials prepare its students for emergencies.
"I have no idea where to check when an emergency happens," Figueroa said.
"If there was a shooting or a fire at Grossmont, to be honest, I'd probably just run away from the campus."
Ruggero advises students to take a look at the evacuation plan when they are going in and out of classrooms and know where they are supposed to go to be accounted for in case of an emergency. She said it is also important to check the district website because it has many different public safety procedures to see what is expected and what to do if there was an emergency.
The best way for students to prepare is to look at the resources provided on the district website at gcccd.edu and the public safety office for emergency preparedness information. 
An app students can download, called SD Emergency, also helps prepare them for an emergency. It has a disaster preparedness checklist and updates on disasters, thunderstorms and flash flood warnings. The app has updated info and interactive maps highlighting shelter locations and recovery aid.
Another way to ensure your safety on campus is to check your student account online to make sure your contact information is correct so you can be sure you are getting emergency update
messages.