ASGC Offers Student Benefit Card
GROSSMONT COLLEGE –This semester the Associated Students of Grossmont College (ASGC) have expanded upon the student benefit card. With the benefit card, students have the opportunity for various discounts.
The ASGC benefit package, better known as the benefit card, is a sticker placed on the back of student's college ID card. The benefit card allows Grossmont students to receive discounts both on and off campus. ASGC bylaws state that students do not have to join ASGC to receive the benefit package.
According to the ASGC some benefits are available at the ASGC, Inc. Activities Window upon purchasing your sticker.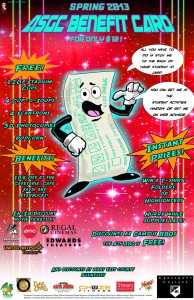 According to the ASGC, the Benefit Card costs 12 dollars and is valid for one semester. Students can purchase the card either online or at the ASGC office. Students can pick up the benefit sticker at the ASGC office, and the sticker is then placed on the back of the student's Grossmont ID.
Publicity Director Nir Shtern stated, "The Benefit Card offers various discounts, its affordable, helpful to students, and offered to all students of Grossmont College".
"The money each student would pay if they purchase the card would go towards the items that are included in the package." stated Shtern, "It's valid for one semester but the sooner students purchase one, the more time students will have to enjoy it."
According to the ASGC, the purpose of the Benefit Package is to give Grossmont Students the chance to have discounts on and off campus. The  ASGC website also states that there is a  one-time offer of 10% off student book prices. There are also discounts at the Griffin Grill, Cafe Java, the on campus Starbucks and supplies from the Grossmont Bookstore.
For more information about the benefit package, visit the ASGS's website at www.asgc.inc