Sheriff's Senior Volunteer Patrol Help Ease First Week Traffic at Grossmont College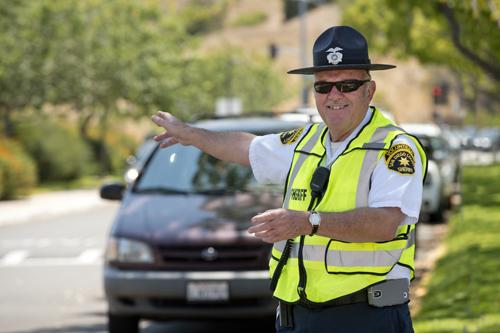 For Immediate Release
August 23, 2013
–Office of College and Community Relations
GROSSMONT COLLEGE-EL CAJON – As assignments go, traffic duty for the opening week of classes at Grossmont College was fairly routine for members of the Sheriff's Senior Volunteer Patrol (SVP), and that was just how officials at the college hoped it would be.
With new students unsure of where they should park, and parents and friends dropping other students off at various locations on the road that skirts the perimeter of the campus, traffic can sometime get quite gnarled. Having uniformed volunteers there to direct cars, and help pedestrians cross, made for a smooth first week.
"It hasn't been rough at all," said Sheriff's Lt. Jose Sanchez, who commands the force of Sheriff's deputies assigned to the Grossmont-Cuyamaca Community College District, and who also was able to call in the SVP members as additional resources.
"I think it has been awesome," said Sanchez. "We have received accolades from students and staff about how great a job they have been doing."
Among those directing traffic on Thursday, August 22, was Richard Rafter, who has been volunteering since 1993 for the Sheriff's Department. Previously he worked as a commercial chemist with responsibility for liaising with the federal Food and Drug Administration.
"I read an ad in the paper that they were looking for volunteers, and I'm one of those people who love to be busy all the time, and I said, 'Why not?' and that is how it started."
Among his more memorable assignments as a volunteer have been "when we go out
and look for people with special needs or lost children," he said. "You always feel
good when you are part of the team that finds them safe. We also go out on major disasters like fires, and things like that, and we evacuate people from their homes, out of harm's way."
Additionally, he said, "we also have the YANA program, which stands for 'You Are Not Alone.' It is a program that the Sheriff's Department offers for free to home-bound seniors and other people who can't get out as much. We give them a phone call every day, and one lady who we called in the morning didn't answer, so we went out there. She had slipped in the bathtub and couldn't get out. She had spent the night in the bathtub. She was very appreciative that we were there, and that the fire department got her out."
Don Stokes, a three-year member of SVP, was another volunteer on Thursday morning. He is retired from the Navy where, in association with the San Diego Community College district, he had taught sailors at Naval Training Center how to be instructors in their specialized fields. Later, he performed a similar job with a private company in the Port Hueneme area.
One day while driving on Woodside Avenue in Santee he saw that a tree had fallen and that members of the Senior Volunteer Patrol were directing traffic around it. "I thought that looked like something interesting, so I investigated it, got training at the Academy, and I am happy."
Besides traffic control, he said, he often patrols parking lots. "We look for broken glass indicating a break-in. We look for animals or children locked in cars, and we look for illegal parkers."
The Grossmont College traffic assignment was easy duty, he said. "There were no major incidents. We had a bunch of people trying to find parking spaces and we had to tell them to keep circulating."
Commented Tim Flood, Grossmont College's Vice President for Administrative Services: "This was the smoothest traffic ingress and egress that I have witnessed for many, many years. The sheriffs in coordination with the Senior Volunteer Patrol and our Campus and Parking Service (CAPS) have done a wonderful job."