Prof. Herzfeld-Pipkin tells what makes a good ESL teacher
-College and Community Relations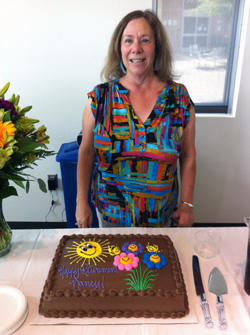 EL CAJON–Retiring following a 37-year multiple college career as an English and English-as-a-Second-Language (ESL) faculty member, Prof. Nancy Herzfeld-Pipkin answered unhesitatingly when asked at her Grossmont College retirement party what quality ESL instructors need most.
"Compassion," she declared.
Approximately half the ESL students at Grossmont College "are immigrants from all over the world, refugees, people who are struggling, people who are here under very difficult circumstances," she said. "They are here because they were forced to leave their country. They didn't want to leave their country but circumstances happened that they had to. They came with almost nothing, and learning language and a new culture is not easy, so you have to have compassion."
So, Herzfeld-Pipkin said, she tried to make students feel comfortable in her classroom, while at the same time insisting upon high standards. "There is a little bit of making sure that they are okay, but also making sure that they understand all that they will have to deal with," Herzfeld-Pipkin commented during a Friday, August 30, retirement celebration on campus with faculty, staff and administrators.
Making students work hard for their ESL classroom grade prepares them to do well in academic courses that they will take in other college disciplines, she noted. If standards were to be relaxed, on the other hand, "you would not be preparing them to deal with what is coming up in the environment they chose. It would in fact be a lack of compassion because you set them up for failure."
Herzfeld-Pipkin said she is proud of the seven books she has authored for use by ESL students. When she started at Grossmont College, she recalled there was an exercise book that asked students to write about such topics as their favorite superstition, holiday, and color.
"At midterm, students were coming to me and saying 'I have to drop my history class,' and I thought 'We are not preparing them!' so I just started writing some materials based on academic themes.. One was on the African American experience, starting with Frederick Douglass, the Civil War, the Jim Crow era, Civil Rights — they need to know this. The student reaction was incredible: 'You mean we are going to learn something from this?' I remember an Iraqi guy, a biologist, who fled because (Iraq's dictator) Saddam (Hussein) wanted him to work on chemical weapons and he wouldn't…. He told me that in his music class, they were talking about the jazz era, and the teacher said 'Jim Crow.' The student was excited to report 'I knew what it was, just like all the Americans, and I was so proud of myself.'
Other chapters in that book addressed different subjects in a general-education curriculum. There was "a little bit about learning styles, history, the environment, culture, health, so no matter what class they took, they would have a smattering," Herzfeld-Pipkin said. "You focus on that vocabulary, and those ideas and the grammar that comes up most often in those disciplines."
Besides writing books geared to ESL students — her first was about a trip she made across country from New York to California — Herzfeld-Pipkin has participated in innumerable conferences, workshops, seminars and convocations to assist in the professional development of new ESL teachers.
"What her many admiring students are not aware of is what she has done to advocate on their behalf," commented Agustin Albarran, dean of English, Behavioral and Social Sciences at Grossmont College. "She has served on numerous committees such as Academic Senate, Student Success Committee, East County Cal-Pass EL/ESL Intersegmental Council, Chancellor's Refugee and Immigrant Planning Team, and International Student Committee."
Furthermore, said the dean, "she has presented workshops to Grossmont College Faculty and to San Diego-Imperial Counties Community College Association (SDICCCA) interns, sharing best practices when teaching non-native speakers in their classes. She has also served our faculty on the Facilities Committee, Faculty Staffing Committee, ESL Assessment Test Writing Team for California Community Colleges and ESL Full-Time Instructor Hiring Committees… Nancy has been deeply committed to creating and developing learning communities in the ESL department."
History Prof. Sue Gonda, president of Grossmont College's Academic Senate, said she recently had a conversation with Beth Smith, the Grossmont College mathematics professor who currently is serving as president of the statewide Academic Senate for the 112 California Community Colleges, about Herzfeld-Pipkin's retirement. She said they agreed that Herzfeld-Pipkin could be counted upon in every academic forum to always "bring back into the conversation the big picture, student success, which is what we are here for."
Gonda also praised Herzfeld-Pipkin's devotion to community service learning, by which students may earn course credit by relating their volunteer experiences with agencies in the community to their studies in the classroom.
The gathering in Griffin Gate in Herzfeld-Pipkin's honor also included some lighter moments. For example, Barbara Loveless, who has shared office space with Herzfeld-Pipkin for seven years, recalled that the first thing Herzfeld-Pipkin told her when Loveless arrived at their shared office quarters was that she had been meaning to throw away some 30 years of collected papers that were piled up around the office.
Now that Herzfeld-Pipkin is retiring, "she is finally going to get rid of those papers dating back 37 years," Loveless exulted. Loveless said that she learned some of the things Herzfeld-Pipkin hopes to do after retirement. With her son and daughter-in-law expecting a child, she wants to devote time to being a grandma, she wants to travel to Hopi Indian country to collect Kachina dolls and turquoise, pursue gardening as a hobby and lifestyle, do more hiking in Mission Trails Regional Park, and "eat chocolate for pleasure," not for stress!
Prof. Oralee Holder, chair of the English department, told of a special connection with Herzfeld-Pipkin that neither of them at first realized they had. Early in her career, she said, she was flying from San Diego to San Francisco and met on the plane a man with whom conversation was so interesting they decided to correspond, which they did for approximately three years before losing touch. About five years ago and 25 years after that plane ride, Herzfeld-Pipkin came into Dr. Holder's office with a note card bearing her name and a message. "Is this yours?" she asked. She had found it along with many other letters among her brother Gerry Herzfeld's effects, explaining "Gerry was a pack rat like me!"
Because Nancy Herzfeld-Pipkin originally utilized the name "Nancy Pipkin" before deciding to hyphenate it with her maiden name, Holder said she always thought of her fellow faculty member as "Pipkin" and didn't realize the "Herzfeld" name indicated a relationship. What a surprise it was for both women that Gerry had lengthy correspondence with his sister's colleague! Holder also was able to share with Pipkin the "other half of the story," letters that Nancy's brother had written decades before. It became a way for Herzfeld-Pipkin to understand other aspects of her brother's life.