Career Expo
Starting on Monday, October 14, Grossmont College will be presenting Career Week. On Wednesday, October 16 the annual Career Expo will be held on the Grossmont College Campus. Nancy Davis, Director of the Career Center, said, 'I love putting on 'horse-and-pony shows.' It gets people interested." Career Expo and Career Week has been going on for 35 years and the largest one involved approximately 120 different exhibitors displaying what they have to offer the students of Grossmont College. The best part about the Career Expo is that it is supported by Grossmont College to give their students most employment opportunities possible.
The events during Career Week are a way for students to prepare for the Career Expo. Monday is the day for job prep clinics. Such clinics include resume tips, how to dress for success, and interview dynamics. Tuesday's workshops include how to handle interviews over the telephone and how to make the most out of "Happenstance opportunities." On Thursday, October 17, Kathleen Alyward, Assistant Professor of Exercise Science, will speak about careers in Physical Therapy and Teaching. Other presentations will be held throughout the week.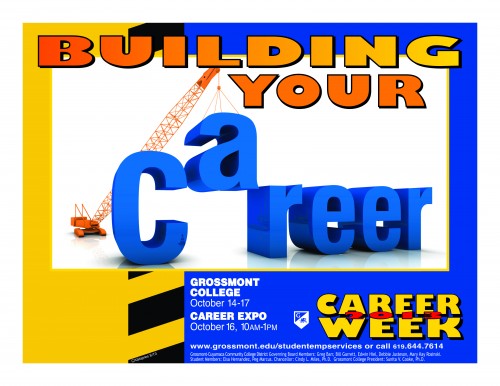 There have been many different attractions over the years. Some exciting activities included a Police Dog showcase and even a helicopter landing right here on campus. There have been many instances of students getting hired right on the spot at the Career Expo.
    When Career Week is over, Grossmont College will be doing a collaboration with the Transfer Fair and Got Plans? on Saturday, October 19 here on campus. President Obama stated in 2009, "Community Colleges play an important role in helping people transition between careers by providing the retooling they need to take on a new career."