OPT Program trains students provides free Employment Aid
Whether new or returning, students study and invest time with their future in mind; however, sometimes the transition from student to working professional presents a challenge. Twenty-six years strong, the Office Professional Training (OPT) Program offers free training and employment aid to any California resident.
The program provides core classes for general office skills such as Microsoft Office, Business Communication, and Office Systems & Procedures. Students can also choose a specialization in accounting, banking, insurance, and/or office support, with total units to earn from 12-18. While taking these classes, a licensed Marriage & Family therapist is available to counsel and help students conquer fears or other setbacks to fulfilling their goals.
Graduates of the OPT Program then receive aid in obtaining work related to their training. Copies of their resumes are sent to over 40 businesses in the San Diego area that previously worked with and hired program graduates. According to Dr. Mary Leslie, the program's Lead Instructor, more than 75% of graduates successfully obtain long-term employment—some even end up working for the college, like OPT program assistant Debra Allen.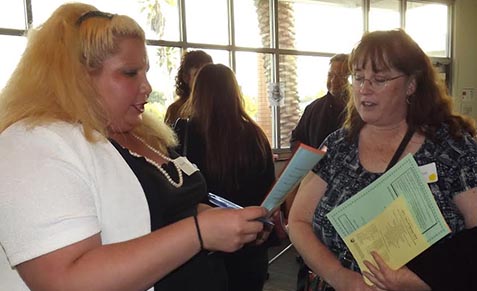 The program and services are free for any CA resident, and the OPT staff work hard to keep these free services running. Once federally funded, funds are now earned through private donation, biannual auctions, OPT cookbook sales, recycling, and fundraising events, such as the Clothing Sale on April 26th and the Walkathon on May 10th.
The next session of the OPT program begins July 28th. The course lasts 20 weeks and classes are from Monday through Friday, 8am to 4:30pm. Questions can be directed to the OPT office in-person in Building 54, room 512B or by phone at 619-644-7247