Get fit: Training Tips with Grossmont Coach Kelly Clark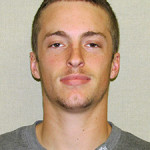 As summer creeps around the corner it's time to get those bodies in shape physically and mentally. The gym isn't for everyone, it's tough to be committed in going to the gym with school and work already filling up your time.  Here are some tips to help get you in the gym and looking fit by the start of summer.
Have a goal – When people generally work they have a goal or a destination set in their minds of what they want to get out of training, gaining muscle mass, improving flexibility, or losing fat. Once you have your goal start the work and track your progression.
Properly Perform – If you're feeling uneasy and just beginning to exercise there are solutions. It's always nice to go to the gym with a friend, it relieves those minor insecurities we all carry with us. Gyms also offer trainers to help you start out on the path to fitness while teaching you the right way to work out your body. Learn how to properly perform movements before doing them in your workout. "If you get hurt you can put yourself further back: Take a class, hire a trainer, look up movements from trusted sources." Grossmont exercise instructor Kelly Clark said. Don't sell yourself short. If you're at the gym, don't slack off. Set your playlist ahead of time, people have the tendency to keep up with their social life at the gym, it can wait. If you're not sore after the gym you're not fully putting the effort in, cross that line.  Don't work around your weak areas, attack them head on.
Stretching and form– Trainers and coaches from all over will tell you stretching and form are the most important concepts to grasp in fitness. Stretch before and after you workout. The wrong from on certain workouts can cause injury, research the workouts online if you don't have a friend or trainer. There are plenty of online outlets and YouTube channels that do the workouts right in front of you.
Want to gain weight? Lean mass is what you're looking for. Progression is different
for everyone, some gain weight quicker while some may just get cut and defined quicker.
Here's are some Gainz tips from Coach Kelly
For lean mass general rules:
Eat Proteins and fats
Strength train – Progressively Overload the body
No long slow cardio
Supplement when needed
Recover properly
Or if you're just looking to shed some extra "lb's", here are some simple weight loss tips also from our very own Coach Kelly
Weight loss tips:
Cut out Sugar and processed foods
Eat Proteins and Fats
Eat your Vegetables
Do not cut all your calories – keep at an adequate level for your needs based upon activity level and size (cutting slows your metabolism down)
Strength Train
Add in Interval Cardio when strong enough
It's always the first couple weeks that are the toughest in heading to the gym, but once you find the right regimen and schedule it becomes addictive. Exercising is proven to raise self-esteem and provide you with a productive day. Try to take some of these tips from Coach Kelly and apply them to your everyday life!