Breaking Boundaries 2014: Students will choreograph annual performance
Editor in Chief
Grossmont College's Dance Department puts on the "Breaking Boundaries" dance concert every fall. The show is completely choreographed by students here on campus and features a variety of different genres of dance including, modern, hip hop, contemporary, jazz, ballet and stomp percussion.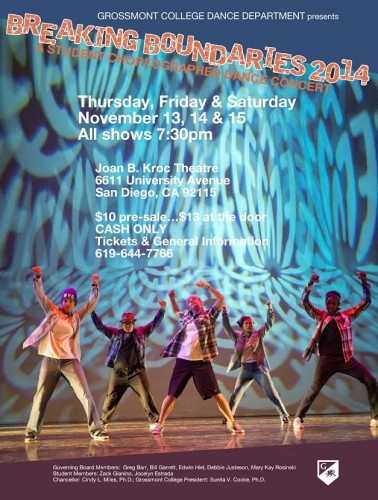 "The concert will feature first-time choreographers as well as students who have choreographed for the past two student performances," said Kathy Meyer department chair. Meyer directs the performance and Melissa Adao, a Grossmont dance instructor, is the co-director.

"Breaking Boundaries" will be held at the Joan Kroc Center on Nov. 13 – 15. Tickets are $12 at the door, but only $10 presale in the main dance office, which is located in 24-272. So grab a ticket Grossmont Griffins, this is a show not to be missed.