Dance Off: The dance department welcomes high school students to Grossmont.
 Summit Editor in Chief
On Nov. 14, Grossmont College's Dance Department had its high school dance outreach day here on campus. There were a total of eight high schools and more than 260 students that participated in a variety of different workshops with dance genres like hip hop, ballet, creative improvisation, jazz, musical theatre, salsa, Pilates, swing and modern. All the workshops were taught by Grossmont College dance instructors, and some were even taught by Kathy Meyer, the dance department chair. Students could also watch a couple performances of the most recent dance concert "Breaking Boundaries," which is a student-choreographed dance concert held last month.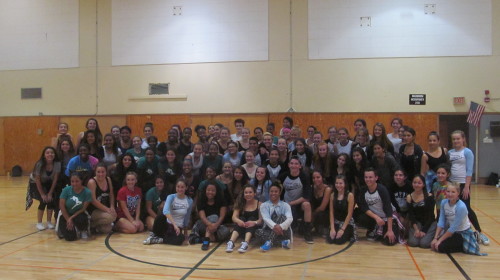 Two students from Ramona High School – senior Leanne Foster and junior Montana Pettit – said they took multiple classes that day and really enjoyed it.
"I liked it so much that I would consider going here," Foster said.
Schools all over San Diego County joined Grossmont College including: San Diego School of Creative & Performing Arts, Grossmont High School, Valhalla High School, Monte Vista High School, San Pasqual High School, Ramona High School, Steele Canyon High School and Helix Charter High School.