Curating On Campus
The Hyde Art Gallery on Grossmont's campus is now showcasing two new exhibits.
The main space is exhibiting "Climate Reckoning" in collaboration with the Feminist Image Group (FIG). In this show, which is open through April 25, 26 artists react to the problematic stewardship humanity holds over the natural environment. The window exhibit is "What I Wanted To Tell You is This….," a memorial exhibition of poetry and collage by Jade Solan, a communications instructor who recently passed away, that runs through April 21.
"These exhibitions aim to provide museum-quality presentations for the Grossmont and East County San Diego communities," Gallery Director Alex DeCosta said. "They are also curated to influence and inform our art students' art practices and supplement the educational opportunities for all Grossmont students."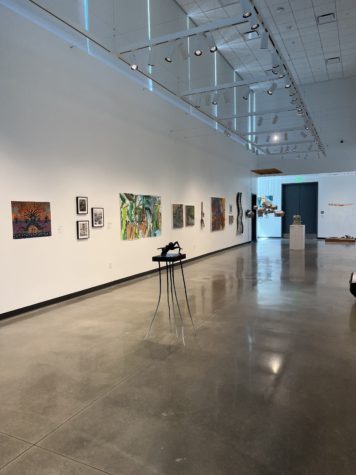 Coming Back
With these new exhibits, Gallery Director Alex DeCosta provided more details about the campus's gallery, which reopened in the Fall 2021 semester after being closed due to the pandemic.
"The first exhibition I curated in the new gallery space was the 'Grossmont Open,' a campus-wide faculty and staff exhibition of artwork created during the pandemic," said DeCosta, who added that the gallery has since continued its tradition of capping off each semester with an exhibit of student work.
"Like many other programs on campus, we are still struggling with attendance and gaining back some of our pre-pandemic prominence and visibility in campus life, but it's a good feeling to have artwork on the walls again," DeCosta said.
This academic year, the gallery is back to presenting three exhibitions, lasting four to five weeks, each semester.
New Digs
DeCosta said the gallery's new location in the Performing and Visual Arts Center (PVAC), which finished construction in 2020, is "a great space" that allows different exhibits at the same time. He said the space is an upgrade compared to its old location in Building 25, where the gallery was housed for 50 years
"The previous gallery was a standalone building embedded in the 200 Fine Arts Quad," DeCosta said. "Now, the gallery is recessed inside another building closer to the edge of the campus. This move has increased our visibility as the gallery's new Patterson Window Display is one of the first things you see when driving onto campus."
The window display opens up more exhibition options.
"This space has been exciting and challenging to curate exhibits in, but it provides the gallery with the unique opportunity to showcase larger, more installation-heavy artists," DeCosta said.
DeCosta noted that it has "been a challenge" to let the campus community know of the gallery's new location. However, he notes the collaborative potential of the new PVAC, which is used by various arts programs including music and theater.
"I'm excited to see the type of programming we develop and how this building will be utilized in the future," he said.
The gallery's more visible location can help "students discover that Grossmont College has a somewhat important art gallery on campus that has been operating for 54 years," DeCosta said of the gallery, which is open to walk-ins almost daily and is free and open to the public.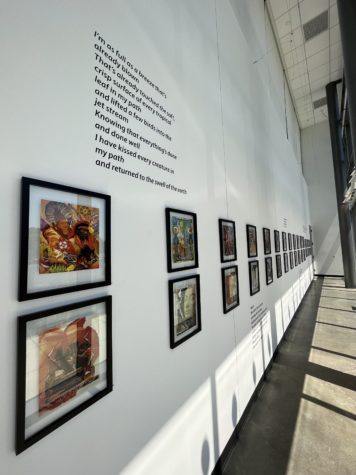 Student Work
The Hyde Gallery stages a faculty exhibition in the fall and ends each semester with a student show. These last exhibitions are reserved for showcasing student work produced during that semester. Many students are excited about it, as it is the only time student artwork is displayed in the gallery.
DeCosta said as an art director, it is rewarding to see when the students are able to publicly display the fruits of their labor to an expanded audience, who often discover the gallery online.
"In the past, the gallery sent out physical mailers, but to be more environmentally conscious, I have decided to primarily promote in a digital format – social media and email," he explained. "After seven years of operating like this, the gallery has a fairly extensive emailing list and social media following. These venues and word of mouth around campus have been very effective in increasing our viewership."
He added: "It is also important to bring artists to campus whose artwork and concepts students can identify with. If the exhibition can pique the interest of our students, they will come."
DeCosta said he typically plans exhibitions a year in advance.
"This gives the artist(s) enough time to create new work and plan around other exhibition opportunities," he said.
Current Shows
The gallery is currently showing two exhibitions that "are powerful on their own and showcase various mediums and concepts," DeCosta said.
"Climate Reckoning," the FIG exhibition, presents the work of 26 regional artists, most of whom DeCosta has not worked with before.
"Being a gallery director is meeting new artists and learning about their process and body of work," he said. "This exhibition, in particular, showcases various mediums, processes and concepts, making it a powerful show for student artists."
Grossmont Student Blair Clark specifically visited the gallery to see the climate exhibition.
"This exhibit is important, especially with all the information about climate change and how it affects the world," Clark said. "Anyone with doubts or little information about climate change should see this exhibit. This exhibit will change everyone's perspective."
The second exhibit, "What I Wanted To Tell You is This….," is a memorial for Jade Solan, a professor in Grossmont College's Communications Department for 15 years who died of cancer last fall. The show was curated by Solan's partner of 30 years, Alisha Solan.
Grossmont Student Jenny Harris, who knew Jade Solan said seeing the exhibit brought many memories back.
"This is also a beautiful way for this work to be shown, especially with how Mr. DeCosta chose to display it," Harris continued. "If any student knew Ms. Solan, then you should go to this exhibit."
Harris added: "I love the Hyde Art Gallery. It is one of my favorite spots on campus."
The Hyde Art Gallery is open Monday through Thursday, from 10 a.m. to 4 p.m. For more information, visit hydeartgallery.com or follow @hydeartgallery on Instagram.
Leave a Comment
Your donation will support the student journalists of Grossmont College. Your contribution will allow us to purchase equipment and cover our annual website hosting costs.
About the Contributors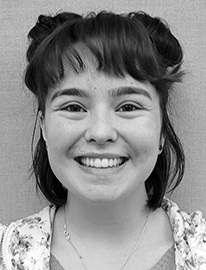 Dani Ucman, Staff Writer
Journalism major who enjoys reading and doing theater shows in the community in her free time. Enjoys listening to music and visiting Disneyland with family...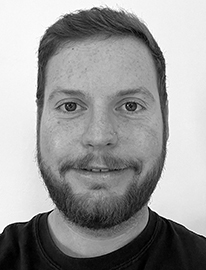 Andrew Breitenbach, Deputy Editor
Aspiring journalist, local sports fanatic and extreme sports enthusiast. Cross-media journalism major that enjoys movies, music, video games, art and sports.