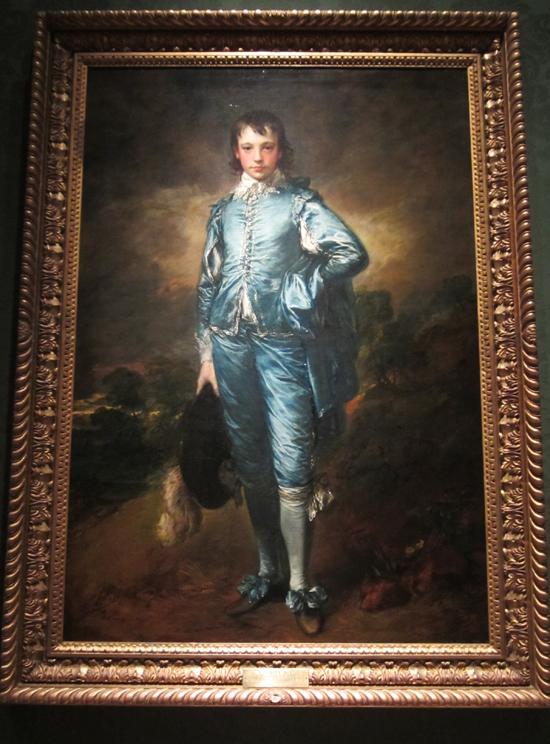 SAN MARINO, California – In honor of Veterans Day, "a day to be dedicated to the cause of world peace," I took a detour two hours north from Grossmont College to check out a different kind of man in uniform.
In the quiet, private and well-maintained city of San Marino, lies The Huntington Library and Museum, one of America's finest crowned jewels resting on a 207-acre oasis of culture and beauty.
According to the Huntington's  guide book, the estate was built in in 1911 and bought by wealthy railroad executive Henry E. Huntington and his wife in 1914.
The guidebook went on to report:
After 60 years of lifelong dedication to the expansion of the West via railroads and real estate, Huntington decided to retire with his art-collecting bride to their newly
acquired Beaux-Arts estate, adapted to the California climate and landscape.
He spent the last years of his life passionately collecting books, manuscripts, portraits, tapestries and plants, as well as regularly hosting members of a small, close-knit and
privileged segment of  British society.
It was his goal to "specialize" his acquisitions and "build a great collection around a limited
area" rather than spreading attention "thinly over a wide range of interests."
The Huntington's two-story mansion, now formally the Art Gallery, displays their private and precious collections of British, French and American 18th, 19th and early 20th century art, depicting works and interests of the aristocratic and wealthy social class.
Most notably among  Huntington's British collection of "quality, variety and depth (said to be unsurpassed outside of London)" rests The Blue Boy, a portrait executed in 1770 by English painter Thomas Gainsborough's 1770
The guidebook informs that The Blue Boy, oil on canvas,  is a portrait of Jonathan Buttall, son of successful SoHo Hardware merchant, Master Bruttall, in a bright blue costume similar to those seen in the works of Gainsborough's idol, Flemish painter Sir Anthony Van Dyck.
The portrait, assumed to be a tribute to Van Dyck, is indicative of the master's 17th century
work with regard to the cut of the shoulder and sleeve, as well as in its format and pose.
The Blue Boy is only one of Gainsborough's 13 paintings exhibited at The Huntington, but unquestionably the most prized and studied.
The successful businessman envisioned that his private collections, focusing on Anglo-American civilization, would be committed to "public education in an effort to "benefit scholars and visitors for centuries to come."
In 1919, just eight years before his death, Huntington established a non-profit educational trust for his property in hopes that his legacy and love of arts and culture would
continue.
Also integrated on this treasured Southern California land is one of the nation's largest independent research facilities, hosting over 1,800 scholars yearly, dedicated to academic
research in the humanities and sciences
This grand research library encompasses over 4 million items including rare books, manuscripts and photographs spanning 10 centuries of British and American history and
literature.
The Huntington has a 150-acre unique botanical garden filled with 15 specialized gardens containing roses, camellias, desert plants and landmark trees.
Due to its remarkable beauty and never-ending educational possibilities, The Huntington brings over 500,000 visitors a year who, through private funding and donations, have continued to keep the memory and vision of  Henry E. Huntington alive.
*
Fedor is arts and entertainment editor of the GC Summit.  She may be contacted at [email protected]