El Cajon's own Pennix D1 Bound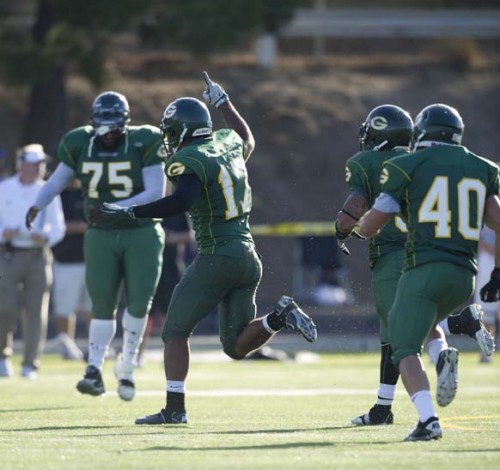 GROSSMONT COLLEGE—Defensive end Shane Pennix was a dominating force for the Griffins defense this year. The 6'4'' 245 pound sophomore from El Cajon's Valhalla High School was a unanimous all-conference selection and is the only Griffin up for all state honors after leading the team in sacks with eight.
Pennix said the season is extra special considering he is El Cajon-born and bred. "It's feels really good. It's always good to be one of the best on the team and one of the best in the local area."
There is no question that Pennix will take his talents to the next level. "I'm just trying to chase my dream of going to a D1 (Division 1A) college and hopefully making it to the league (National Football League)."
The NFL dream will have to wait a few years, but Pennix is in the process of fulfilling his dream of playing on Saturdays at the Division 1 level. Pennix has D1 offers from Nevada, USC, Iowa State, Arizona, Boise State, and Utah. USC and Boise State are perennial college football powerhouses, the others are definitely a relevant part of the college football landscape.
The El Cajon native says he doesn't mind leaving his roots if it's for the right fit. "Wherever I feel comfortable, it doesn't matter if I go out of state." Grossmont can take credit for Pennix as a student, but he was athletically D1 ready coming out of Valhalla. "I had five offers on the table out of high school but I got a little lazy on my grades and messed up on my SAT so I had to go the JUCO (junior college) route for two years. After this season I'll be good." He then credited Grossmont College for the education it provided him over the past two years. He is now academically eligible to play at a D1 school. "Yes Sir!" Pennix beamed, "my grades are good."
After making the game-winning interception against Fullerton in a 19-13 Grossmont victory earlier this season, Pennix credited the defense for making big play after big play.
Grossmont College fans and El Cajon natives alike can take pride in the fact that somewhere next season on television they may be able to catch Shane Pennix making big play after play at the Division 1 level.
*
Hurst is managing editor of the GC Summit. He may be contacted at [email protected]