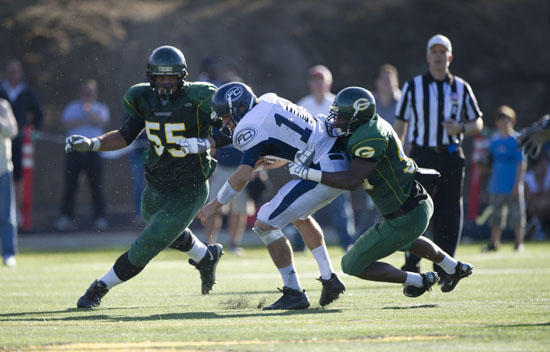 GROSSMONT COLLEGE— Coming in as a first year writer, I didn't know what to expect from this community college. Living in the area for five plus years I knew there was a little bit of a tradition. As a former college football player at the University of Kansas in the early 00's I felt like I could see the game from a former player's perspective and put that on paper as an aspiring writer. The team did not let me down. The ups and downs provided by the 2011 Grossmont Griffins gave this new writer story lines a plenty.
"It's a tough conference," said head coach Mike Jordan. Indeed it was, with traditional powers like Mt. San Antonio College, Pasadena College, and Orange Coast College, on the schedule, it was not an easy road for the Griffins to maneuver.
"I've never been under the odds before (starting 0-3). It just reaffirms my beliefs that you go out with that consistent work ethic every day and things get done. We won four of our last seven days." This is what Coach Jordan learned about himself. As a former football player who never played on a team over .500 I saw some similarities between this team and some of my past teams. But I also saw some differences. While the team seemed out of synch in the first few games, they players didn't lack talent. While they suffered some tough early season losses, they weren't being outcoached. They just seemed to need a big spark while sharpening some of the little things. The spark came in the form of quarterback Mike Karls, whose Michael Vick-like style elevated a staggering offense and complimented a jelling defense.
"We put in a lot of hard work; we were a good football team at the end of the year, one win away from the playoffs. We weren't satisfied with the win-loss record, but with the team's ability to get better." The team did show steady progress, a trait that I usually witnessed in reverse from my playing days. The team did go back to its early season ways with back-to-back losses to Saddleback and Mt. Sac that were downright ugly. But the team bounced back and nearly made the playoffs. "I told them I was proud of them. I thanked them for toughing it out all season. They had no quit in them. We played a great game against Palomar; I told them not to hang their heads. The resiliency they showed is a life quality they will take with them forever."
Inspiring words from a coach who stuck to his guns with the addition of a talented bunch to back him up. The talent on the team shined in the form of all conference members: Defensive End Shane Pennix Unanimous 1st team all conference; All State nominee, Defensive Back David Edgerson 2nd team all conference, Defensive Back Eldridge Calhoun 2nd team all conference, Left Tackle Blake Bullard 2nd team, Tight End Wyman Powell 2nd team, Linebacker Vainini Epensa 2nd All Conference, Punter Stephan Mos 2nd team, Wide Receiver Tim Patrick 2nd team, Donny Walsh, the teams leading tackler, 2nd team all conference.
Pennix is getting major attention from several Division 1 schools. Edgerson, Calhoun, Bullard, Running Back Tucker Spruill, Karls, and Tight End Trevor Roe are all getting looks from Division 1A, Division 1AA and Division II School. "I'm sending out film and talking to coaches every day."
The future is looking bright for the 2012 Griffins. "We had a huge freshman class, we should be able to contend next year," said Coach Jordan. Three returners on a strong offensive line Joe Gibson, Joseph Zicacardi, and Yousif Khoury are already getting D1 looks. Defensive backs Ashante Boyd and Dorian Howard, Defensive Lineman James Triplett, Punter Mos, Linebacker Epensa, and wide receiver Patrick join the long list of D1 hopefuls returning next year. This year's receiving corp will come back fully intact "All the receivers will be back, which will be good," said Jordan.
With the up and down season ending on a low, it doesn't diminish the fact that the 2011 Griffins went on one heck of a ride.
*
*
Hurst is managing editor of the GC Summit. He may be contacted at [email protected]