New administration building wins mainly favorable reviews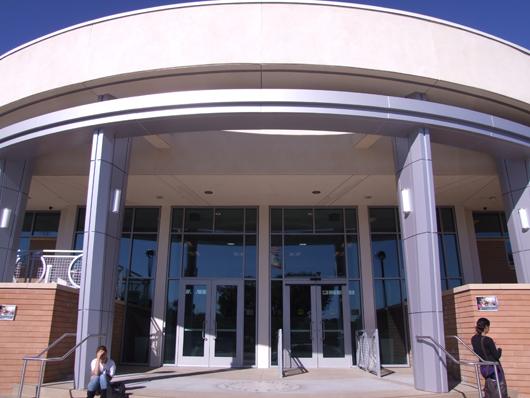 GROSSMONT COLLEGE — Students earlier this year had to navigate through a maze of temporary buildings to find administrators, counselors and other college staff members, making campus help difficult to come by.
With the construction of the new administration building, however, all that has changed. Now the home of the campus bureaucracy is very organized and easily maneuverable. The newly furnished building is located at the front of the campus, just beneath the flag pole. Major service areas inside include: offices for various administrators including the president, vice presidents and deans; admissions, cashier, a  placement testing center, financial aid center, a counseling center, veterans' office, and the campus business office.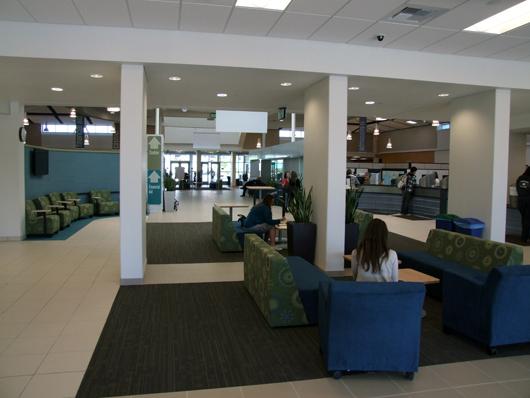 The new building has a nice sitting area with tables and chairs and a far more roomy area to work in, compared to the old modular village.  It also has readily accessible restroom facilities.
Staff members of the GC Summit  recently toured the administration building, interviewing occupants as well as visitors to the facility. Reporter Sean Asuncion said he heard positive reviews of the new administration building. Catherine Colocado told him that the building's architecture reinforces the impression that administrators and staff care about the students, as the facility is very welcoming.
Asuncion said favorable reviews also came from returning students such as Zack Hedval, who said the layout of the building provides an efficient and quick way to get things taken care of. Paige Minter described that the new administration building as friendly, inviting and patient.
However, reporter Barbara Boyd detected some concern among faculty members, who questioned whether the open layout of the building may compromise the privacy needed by students in some situations.  Boyd said she also heard some complaints that the open-floor design causes some conversations in the building to echo.
Overall, however, there was agreement that it is easier today than it was last semester to find such venues as the veterans office and financial aid services, making help more readily available to students in need of counseling.
*
Laurvick is a student in Media Comm. 132A.  She may be contacted at [email protected]