Giveaways lure students to campus health fair
GROSSMONT COLLEGE – Health care providers and vendors staffed booths in the Main Quad on Wednesday April 18 to promote healthy products and life styles.
People associated with Albertsons, Savons Pharmacy,  PlannedParenthood, Pregnancy Care Clinic, Donate Life, Dental Services and Doctor Express were all there with handouts and sign-up sheets.
Condoms, lubricating jellies, and dental dams were given at one booth, ibuprofren at another; Odwalla health drinks and bars at a third, and a variety of other products at other booths.
John McNamara, recipient of a double lung transplant five and a half years ago, was at the Donate Life booth urging people to sign up as organ donors.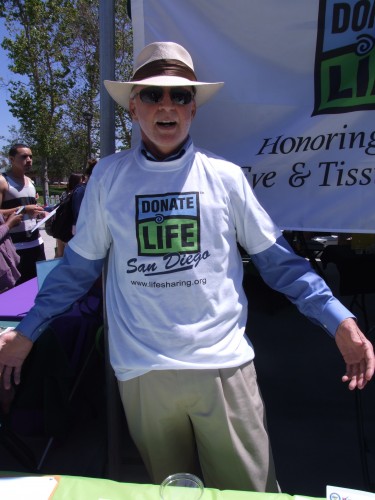 "My donor young man had a cerebral aneurism," he said.  "I am extremely grateful to him and his family.  This is my second chance at life and I have a responsibility to live up to this gift to life.
"I count my blessings; I don't take any of my breaths for granted." Information on how to donate an organ may be found at www.donatelifesandiego.org.
At another booth, Stephanie Capps, a teaching assistant in the exercise science department, administered a body mass index evaluation for passersby including Gloria Kudrat, a  secretary for exercise science, who stepped barefoot on to a scale-like machine after answering such questions as whether she smokes, her age, and her height. The automated evaluation decreed that her fat and fat-free mass were both in the desirable range.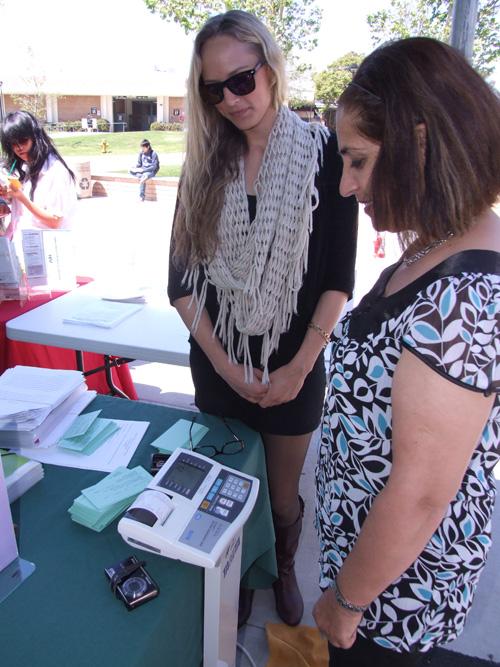 Elsewhere, Jessie Good, a general education major, had her blood pressure checked by Shaun Wheatley, a nursing student. Wheatley said that her reading of 124/80 was excellent.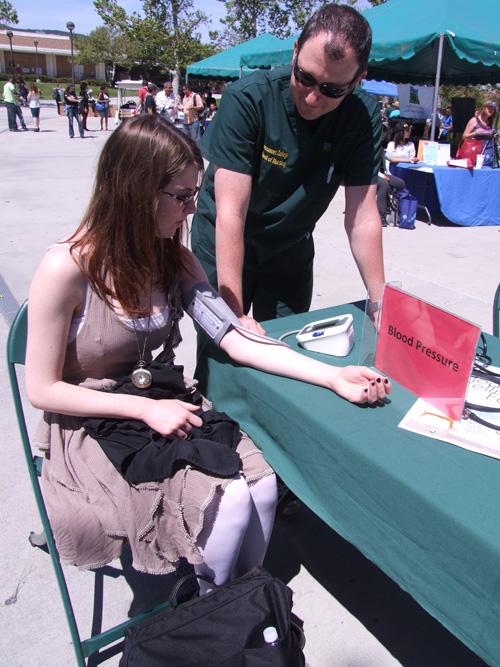 Wheatley and Katherine Poejoy, nursing student, earned required community service hours for performing the blood pressure checks.
Burke is news editor of the GC Summit.  He may be contacted at [email protected].