Health Fair featured some alternative treatments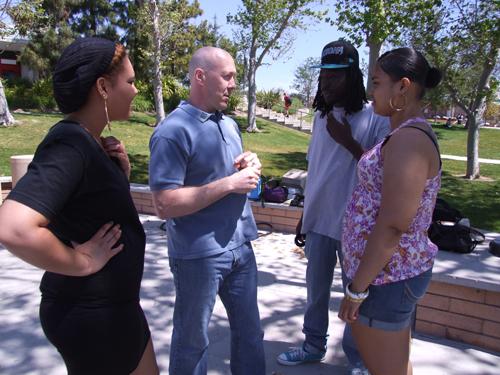 GROSSMONT COLLEGE — Do people needle you about your smoking?
Karie Rust-Wise, a registered acupuncturist, told Grossmont College students that quitting smoking can be as easy as, well, getting needled.
Scared of needles?  No worries. She said you really do not feel anything because of how small the needles actually are.
Rust-Wise was among the health care providers on campus for the April 18 Health Fair.
She said that during anti-smoking therapy, she inserts five small needles along the ear's rim, and a few other needles in other parts of the body to release stress. "The treatment costs $45 and is recommended 2-3 times per week," she said.  Though, the treatment does get expensive, Rust-Wise said, "it's cheaper than the addiction of using tobacco."
The treatment's success depends largely on the patient, Rust-Wise cautioned. If the individual does not want to quit smoking, the likelihood of success is not probable.
Rust-Wise practices at the Jamacha Chase Chiropractic, which works with a variety of insurance programs.   Her partner at the clinic is Eric Wise, a chiropractic, who performed posture analyses for students at the Health Fair.
*
Quijas is editor of the GC Summit.  He may be contacted at [email protected]