Three at the Hyde set me a-marveling
GROSSMONT COLLEGE — A 10-day art exhibit at the  Hyde Art Gallery, featuring 257 works by students, ends on Thursday, May 17.  Three pieces of art, each in a different medium, caught my eye.
"Piano Room," is a photograph by Cat Corle who is currently enrolled in Photography 1, taught by Judith Preston.  It shows the keys of a piano and only the hands of the musician playing the piano. It gave me a vibe as if I were performing.  The lights were off in the vicinity of the audience and the spotlight shone only on the performer.
Musicians tend to focus on themselves, not on their audiences when they are performing so as not to be nervous. If "Piano Room" were on sale I would have bought it immediately as a reminder that music is more for myself then it is for others. Sharing the joy of music with others is great too but music feeds the soul of the musician first, and then the audience gets the leftovers.
The second piece I liked was "Your Welcome," an oil painting by Matthew Aglicol who is currently enrolled in William Mosley's course, Painting II. One person is  punching another in this painting. The detail is amazing and the techniques used gave "Your Welcome"  a 3-D effect. The painting seemed to freeze two people in time with Aglicol rendering the scene exactly how it looked. The technique Aglicol used in "Your Welcome,"  made the cheeks pop out.  It seemed like I could touch each part of the face separately. "Your Welcome" was unusually humorous; its  use of colors made it seem a funny fight between families.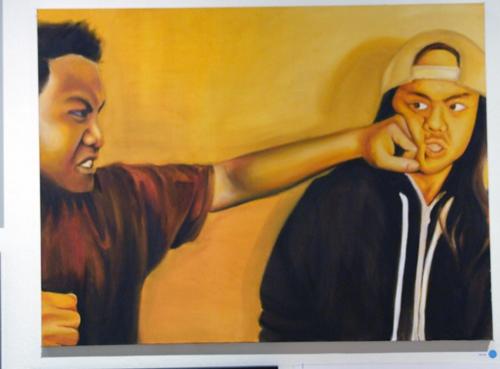 The third artwork that captured my interest was sculpted by Angela Gardner, a student in Jeff Irwin's Ceramic II course.  It seemed as if Gardner cut the head off of the creature the Faun in Pan's Labyrinth ,created a mold out of it and sculpted "Guardian 3."  It felt like at any moment the sculpture would magically come to life and grant me a wish. It was hard to believe that a college student was able to sculpt such a beautiful piece of work. I believe just by looking at "Guardian 3″ that Gardner has a lot of potential and can do really well with art in the future.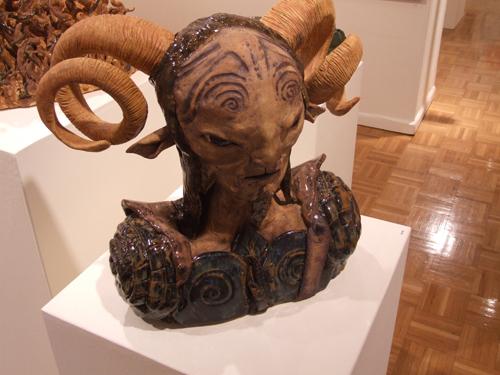 Being able to showcase artwork is an honor for many students and I hope more students next year will be able to display their works of art. I'll be looking forward to looking and viewing their artworks and maybe even buying a few.
Asuncion is arts editor of the GC Summit.  He may be contacted at [email protected]