Grossmont's "The Grimmers" Delight Audiences
The Grimmers is a play taken from the famous Brothers Grimm and their compilation of fairy tales. Grossmont Instructor Jerry Hager wrote and directed the play. Grimmers is an introduction to the popular historical tales portrayed for an audience three years and up. 
The Grossmont Theatre troupe have been invited to travel to and perform at 15 different schools between Alpine and Linda Vista. A few community centers such as the Joan Kroc Center and the La Mesa Senior Center will also host the play. A total of 25 shows will happen throughout the community until December 6, 2012. 
Prior to the start of October 19 and 20 shows, tickets were raffled for a collection of Grimm Brothers fairy tales donated by the Rice Family Foundation of San Diego, CA.  Not only was the book a prize given by the raffle at the end of the show, the books will also be donated to the 15 elementary school libraries that the troupe will be performing at.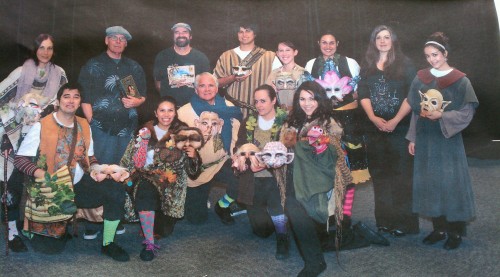 The cast and crew opened up their traveling season on October 16, 2012 with performances Friday and Saturday October 19 and 20 at Grossmont. The Grimmers' opening show on October 19 held an audience full of willing participants including adults and children.                                                  
During the show in the Grossmont Theatre Department, delightful laughs were heard from all audience members, especially the children, whom had their own particular favorite part of the show.   After the play, many children "had fun and wanted to see the play again." That is something that every actor wants to hear. The fact that Grimmers was such a child-friendly program and seeing what an impression it makes on our youth, was one of the most entertaining parts of the evening. 
 With the donations from the ASGC, Stage Department Board members, and outside sources such as the Polinski Center and the Rice Family Foundation, Grossmont's Theatre Department refuses to let the looming threat of budget cuts deter them from making an impact on our community.