Gas Prices Fall As Autumn Begins
As the Halloween season comes to an end, so has the scare of rising gas prices. The average price of gasoline continue to fall from the record high prices set just a few weeks ago.
According to the fuelguagereport.com, several gas stations in San Diego east county region began selling a gallon of gasoline for $3.89. According to figures from the AAA and Oil Price Information Service, the average price is 6 cents less than one week ago, but 50 cents more than one month ago and 80 cents higher than one year ago.
Even though gas prices are dropping. California drivers are paying the highest gas prices in the nation. According to fuelguagereport.com the average gallon of gas in California is $3.99 per gallon. That's 44 cents more per gallon than the national average of $3.55 per gallon.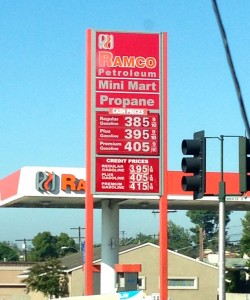 During October 2012, California state officials allowed gas station owners to start selling their winter blend fuel earlier than normally scheduled date in November, in an attempt to combat with rising gas prices.
"Selling our winter blend fuel has definitely afforded us, along with other fueling stations, the opportunity to lower prices for drivers." said Ruwaid Hauko, an attendant at a local gas station in east county.
Only time will tell how long the gas prices will continue to drop. "The price of gasoline only drops when gas stations suppliers drop their price of gasoline," said Silver Palender, a gas station attendant in east county.
With the holiday season peaking around the corner, money is tight as families prepare for celebrations, and high gas prices could dampen their holidays. As the temperature continues to drop, gas prices are hopeful to do the same.