Seeing 'Double' at the Hyde Art Gallery
GROSSMONT COLLEGE–Students and faculty gathered at the Hyde Art Gallery for the opening of "Double Visions" to admire the works of a handful of artistic teams on February 7. "Double Visions", a contemporary exhibition, was inspired largely by collaborations between artists, usually working as a team.
One piece showcased multiple types of commonly discarded materials embedded into the blown glass. The influences and materials behind the pieces were created by a team of brothers from Tijuana: Jamex and Einar de la Torre.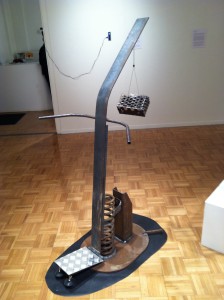 Another piece on display is an interactive sculpture, made mostly from metal, that invites gallery guests to step onto a small platform and lean backwards. Similar to a trust fall, the sculpture leans the user back a few inches off of the ground.
Created by Nina Karavasiles and Scott Richards, Karavasiles stated that the piece is inspired by "what it is that we trust in life, and how often does it work." Inspired by yoga as well, the piece is designed to "open up the chest" and cause the participant to view things from a slightly altered perspective.
A different exhibition consisted entirely of used cell phones. These phones, which gained national attention upon their debut, were designed to be used by people attempting to cross the border into the United States.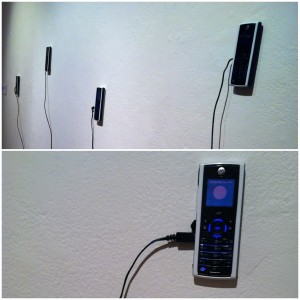 The phones have each been programmed by a group called Electronic Disturbance Theater 2.0 with GPS, locations of water sources, and even a way to call the Border Patrol for emergency assistance. Interestingly, the phones are also programmed with ways to keep the user company in the barren desert, including reading poetry aloud in multiple languages.
A contributing theme in "Double Visions" appeared to be nature. This theme was exemplified in a project where the artists built dams along the Santa Fe River, in the shapes of Native American Tewa symbols, to help increase to flow of water. As a result, their project has solved the problem of the river drying out. According to exhibit curator Larry Kline, the artists Helen and Newton Harrison, "don't just point out problems, through their art they find ways to heal."
"Double Visions" will be on display in the Hyde Art Gallery until February 21. For more information on "Double Visions" and other upcoming art exhibits, visit the Hyde Art Gallery's website at www.grossmont.edu/artgallery/