By John Weber and Amir Al Tamimi
GROSSMONT COLLEGE — A car crash involving a grey BMW and a tanker truck occurred approximately at 12:10 p.m., Wednesday, March 28th at the intersection of Grossmont College Dr. and Highwood Drive.
According to Lt. Dave Peralto of the Grossmont Police Department, "the truck was making a wide right turn and the BMW appeared to not notice and slid under the trailer of the tanker." A couple of eye witnesses were waiting for the crosswalk to turn green and said that they heard "the sound of metal crushing and tires squealing."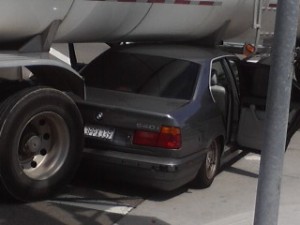 The driver of the BMW identified herself as Farzaneh Saloopi, 46. Her 7-month- old baby was in the back seat.  "Luckily no one was injured," stated Lt. Peralto.
Saloopi gave an account that varied from Peralto's, saying  the truck driver apparently did not see that her car was already in the right lane when the truck made its turn.
The doors of the car needed to be cut to get Saloopi and her child out.  Saloopi, afterwards, sat stunned on the curb near the scene of the accident, later stating:  "the baby started to cry and I was just sitting there because I was shaken up." The driver of the tanker declined to identify himself and  stated that he "did not want to comment."
A tow truck later came to pick up the car and the truck continued on its route.
*
Weber is managing editor of the GC Summit and Tamimi is its El Cajon bureau chief