Volleyballers lose to San Diego Mesa over five sets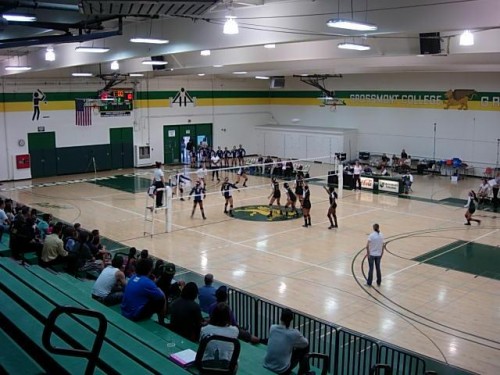 GROSSMONT COLLEGE – Rated the best women's volleyball team in its league, the Grossmont Griffins have a way of bringing out determination and some very fine
play by their opponents—sometimes, even  too much, as was the case Wednesday night in a seesaw battle in which opponent San Diego Mesa finally prevailed.
Before an excited crowd which consisted of fans from both colleges, San Diego Mesa jumped to an early lead winning the first set 25-20.  But the Griffins bounced back with a convincing 25-13 victory in the second set.
Seemingly exhausted, the teams battled to a 26-24 result in the third set.  The play was so evenly matched that either team might have been the one taking the 2-1 advantage in the match, but as it turned out, it was San Diego Mesa that was on top.
Grossmont once again evened up matters by prevailing 25-20 in the fourth set, forcing a fifth 15-point set to decide the match. San Diego Mesa quickly got off to a lead, then ran away with the final set 15-7.   The visitors thereby handed the Griffins their second loss of the season, bringing the host team's record to 12-2.
Jeana Hollman, #15, of San Diego Mesa stated afterwards that "We knew they're the best team in our conference and we had to step up our game."
Grossmont's Denise DeVine, #4, said the task now for herself and her teammates is to "turn the page and move on."   Teammate Bailee Reed, #11, agreed, but confessed, "It's hard to move on especially after we lose to our rivals."
On Friday, Oct. 15, at 5 p.m., the Griffins will have a chance to put the loss behind them, when they play at Cuyamaca College.  Later in the season, on Nov. 4, Grossmont will have a rematch opportunity against San Diego Mesa.  It's already being anticipated.
*
Burke is a student in Media Comm 132. He may be contacted at [email protected]