St. Patrick's day celebrated in advance on campus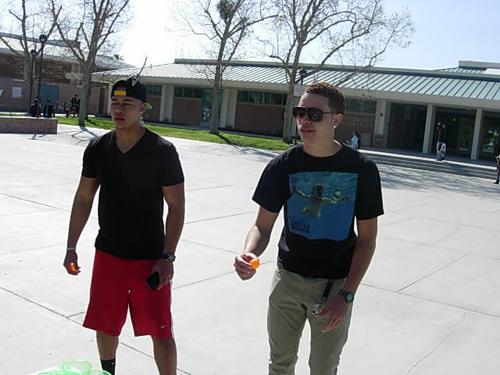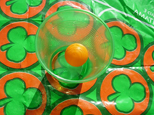 GROSSMONT COLLEGE – While Griffin radio presented a live broadcast Thursday, March 15, in the quad, the advance celebration of St. Patrick's Day included root-beer pong, a spin-the-wheel game and food for sale.
Michael Covington used his, as he described it, "atrocious Irish accent" while spinning  the wheel for players who called their numbers in the hope of winning a prize.  Those who missed received a pencil as a consolation prize.
Beer (root-beer) Pong was the center of attention at the event. Several students played a game while waiting for their next class to begin. Dominique Jones and Joan Leary wee partners in two games.  "We play to win." Leary said. "Who likes to lose?" Jones said. This reporter tested their skill and lost to them by one cup.
The game is played generally with four players, two players to a team. Each team throws a ping-pong ball into the cups on the other side of the table.
In most games there are 10 cups formed into a triangle. The teams to first get ping pong balls in all the cups win, although rules may vary.
Florita Latimer, an observer waiting for her next class said seeing (root) beer pong on a community college campus "is kind of strange watching, but it's kind of fun."
Phi Theta Kappa, the scholarship  organization  sold various refreshments for the event.
*
Burke is news editor of the GC Summit.  He may be contacted at [email protected]