Cinco de Mayo
Treat yourself to some history rather than a drink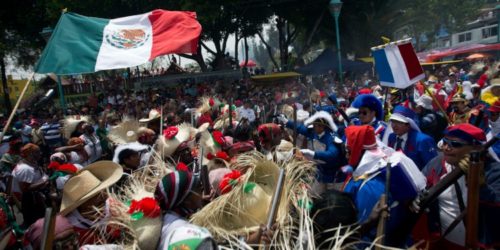 May has arrived and everyone is preparing for the annual celebration of Cinco de Mayo. Restaurants are stocking up on alcohol and promoting their best Mexican-style dishes. Meanwhile, Americans are walking around with sombreros trying to score the best happy-hour deals. The historic meaning behind this day is blurred out through indulgence in alcohol and delicious food, which makes it one of the most misconceived Mexican holidays.
" want something to party about," said Angelica Rodriguez, current student at Grossmont College. "Even though they don't know anything about the culture or what it's actually about. It's degrading for me since I come from there and it's ."
Highly celebrated in the United States — more than in Mexico — many Americans believe that Cinco de Mayo is a day to celebrate Mexico's Independence, but let's put that idea to rest. Mexico's Independence day is actually honored on Sept. 16, which came 50 years before Cinco de Mayo. The fifth of May is the day the Mexican Army surprisingly won victory over  French forces of Napoleon III during the Battle of Puebla on May 5, 1862.
It wasn't until the early 1860s that Mexico had fallen into a grand amount of debt with several European countries, including France. Napoleon III, French emperor  at the time, ceased the opportunity to not only attack and collect debt, but to establish a monarchy in the Western Hemisphere. Under the command of Gen. Ignacio Zaragoza, the less-equipped Mexican Army went to battle against the French, showing heavy resistance. Spending nearly all-day at battle, the French forces surrendered after losing a massive amount of men, giving Mexico the victory.
It is well-known throughout history that at the time the French forces attacked, Mexico had a poorly equipped army, but that didn't stop them from striking back. The French lost nearly 500 soldiers, and Mexico lost  fewer than 100 soldiers from the battle. Although this was a grand achievement and a huge morale boost for the Army and Mexican people all around, its well-earned victory was short-lived.
According to Ashley Ross, author of "The Surprising True History of Cinco de Mayo," "The French army returned the following year and won, but it was the initial Mexican victory was still impressive."
Despite the return of the French, the city of Puebla gratefully honors the fifth day of May as a success.
Even though the roots of Cinco de Mayo are tied back to the Mexican heritage, many don't realize that it has slowly become an American holiday — more people celebrate it in the U.S. than south of the border.
"Recent Mexican immigrants are often surprised at what a huge thing Cinco de Mayo has become here," said Margarita Sánchez, professor at Wagner College. "They do celebrate the holiday in Mexico, but it is only a big deal in Puebla."
Mexicans are proud of this memorable time in history, but Americans and brand companies seem to use the popularity of this day for partying and advertisement. According to the measurement company Nielsen, "During the week of Cinco de Mayo last year, Americans bought more than $735 million worth of beer and malt-related beverages."
One of Mexico's best-selling brands in the U.S., Corona, will spend roughly about $2 million for a spot on national TV during the week leading up to Cinco de Mayo to advertise its product. It's safe to say that the Mexican beer sector can thank Cinco de Mayo, also referred to as "cinco de drinko," for its thriving business.
So the next time you're getting ready to celebrate Cinco de Mayo, remember that it is more than margaritas and tacos; it's a tribute to Puebla and the nation's stance against foreign domination.