Grossmont's "Gals"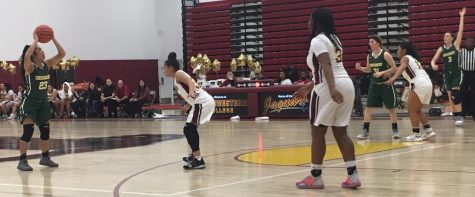 You have to give Grossmont its props for the amount of diversity the college possesses. Whether it's cultural, religious, or gender-influenced, when walking through campus, witnessing this symphony of diversity is enticing and encouraging. This outstanding reputation holds true in the athletics spectrum of G-House, and with March being recognized as National Women's Month, we want to show some overdue love for our Griffin gals holding it down in sports.
The Grossmont Women's basketball team flourished in its Griffin green, showcasing all-star caliber players such as three-point swishing phenom freshman guard Chiara Mattern and sophomore all-star athlete Drew Mendoza.
After the final game of its 2018-2019 season, in which the Griffins fell to the Jaguars of Southwestern College Feb. 20 by a heartbreaking defeat of 90-65, Women's Basketball Head Coach Brionna Baker had encouraging words regarding the toughness and intelligence of female athletes.
"I think any athlete, any gender, is tough because a student-athlete has to balance school and athletics, and a lot of times, student-athletes that come to a junior college have to either improve in their area of academics or improve greatly in their area of athletics in order to transfer to the next level," Baker said.
"I think female athletes have an even more difficult time because a lot of pressure is put on them to succeed in both," she continued, "and sometimes they have to deal with other things– like, for example, we have students that have family issues; they lean more on the women in their family to help."
Baker further explained how being a female athlete on the collegiate level will only help in acting as a guiding tool for future life endeavors.
"It helps them find that balance of where they can learn to gain respect and really fight for what they've worked for because they do it every day on the court and in practice," she said. "It's great to be a female athlete. You battle a lot of stuff, but at the end of the day, it helps to make better females in the workplace and leaders. So it actually accelerates the career field because there are a lot more women leaders now because of athletics and because they have been taught the leadership or captain roles in a basketball or volleyball game or being in charge of a team."
Nothing quite matches the intelligence and diversity of a player who can excel in multiple sports. This was demonstrated by all-around superb athlete Drew Mendoza who made the unbelievably quick two-day turnaround of playing in the starting lineup for the last game of the basketball season, then transitioning to swatting birdies with badminton the very same week for the Grossmont College Badminton Tournament.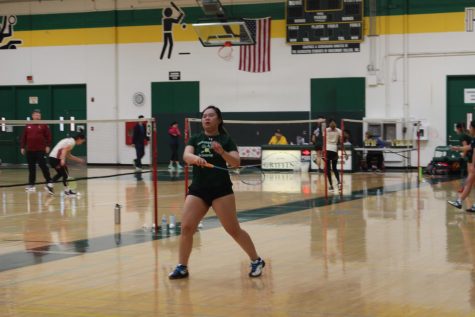 What better way to serve-up the beginning of the badminton season than to ring it in with the versatile athlete? Mendoza described herself:
"I played all four years in high school, I was on the varsity squad. My dad is actually the coach of Mira Mesa high school. I played for my dad for four years, then took a break. And it's been two years since I've played. And I actually just got done with basketball on Wednesday."
This athlete not only demonstrates balance on the court but also in her academic career.
"School is first, always," Mendoza said. "But then again sports and just love of the game, sometimes it happens where you put sports first. I'm just out here to have fun; if I'm out here playing with a smile, then I know I'm doing the right thing."
Mendoza is able to express her competitiveness mixed with true empathy and compassion, as she serves as not only a positive role model for athletes but for students and women as well.  
Women's Badminton Head Coach Bill Gillespie is proud of athletes such as Mendoza.

While is it always great to witness women rise above as a whole, it can be even more refreshing to hear from the male perspective– especially males that have witnessed the growth of women not only playing in sports,  but as influential role models as well.
While attending the softball game Feb. 20 against Southwestern College, Dean Evans, acting associate dean of athletics for Grossmont demonstrated his support for female athletes.
"I've been in college athletics for a long time, and I'm very happy to say and pleased with the way women athletics has evolved over the years," Evans said. "I can say that I'm really excited that Grossmont offers a full complement of sports for women. And I think, in fact, that we should hopefully think about adding some additional women's sports in the future."
At this rate of progression, it is exciting to not only witness the rise and success of female athletes but of all individuals, as students and faculty rally to support the "gals" of Grossmont Athletics.