All The World's A Stage
Theater students are touring San Diego as part of Write Out Loud, performing riveting pop-up scenes from Shakespeare's plays.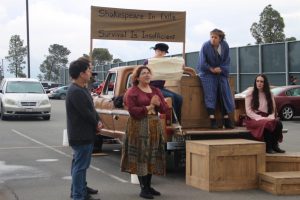 Grossmont theater students bring the extraordinary out of the ordinary as they ditch the conventional stage and truly represent the complexity of Shakespeare by using the world as their stage, traveling throughout San Diego
County, performing riveting and unconventional pop-up scenes by the legendary writer as part of a tour sponsored by the Write Out Loud organization founded in San Diego.
For a majority of students, their opinion of Shakespeare can be epitomized by one of the writers most famous quotes from Hamlet: "To be or, not to be." Whether you love him or loathe him, there is no denying that at some point throughout a student's educational career they will encounter Shakespeare and attempt to tackle his complex and admittedly confusing-but-fascinating plays. Ten students from the Grossmont Theatre Department, along with Director Kevin Hafso- Koppman, are stepping up the bar when it comes to representing Shakespeare as they tour
throughout April.
Sharisse Cohee
One of the most unique and entertaining elements about these performances is that the cast strays from the traditional stage, performing instead in parking lots and on high school campuses as well as other non-conventional "stages." These traveling student minstrels demonstrated superb and adaptable acting skills as the bed of an old
pick-up truck be the "Old Globe" that housed their April 5 performance in the Grossmont Middle College High School parking lot.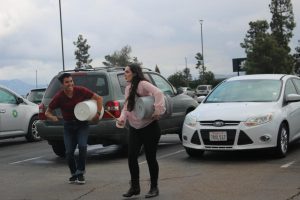 Grossmont theater student Mika Fogacci portrayed Cordelia, as well as various other roles throughout the show, in the group's rendition of King Lear. She explained one of the great aspects of performing on a non-traditional stage: "That's the point of the traveling shows here. It's meant to be adaptable to like whatever sort of environment we are, whether we're inside a high school, out here in a parking lot, in the rain— that's what they're meant for."
Show Director Koppman agreed with Fogacci on adapting to the elements: "Everything is going to be different. There will be planes flying by, cars pulling out, rain happening."
Rain or shine, these actors were ready to entertain and they did not let their audience down. For their premier performance, the actors set up their stage in parking lot four, located near the tennis courts on campus. The group performed scenes from various Shakespeare plays, including Coriolanus as well as Romeo and Juliet, among several others that all had one common theme: Exile. This theme was actually derived from the 2014 novel Station 11, written by author Emily St. John Mandel.
Versatile student actor Laura Beltran gave some insight as she offered a gist of the novel that became the foundation of the production: "The novel which the play is based on is a post- apocalyptic genre which begins with a plague known as the Georgian flu. After that, society collapsed and so there was no technology." She continued: "After that, people would tell each other stories; it's actually pretty good. So there was a group called the 'traveling symphony,'
and they would go around from town to town cheering people up. They would sing pop culture songs," she explained. "Well, our present-day pop-culture, since a lot of people didn't understand those references, they loved Shakespeare instead because you don't need that technology background to know what's going on. It's so beautiful."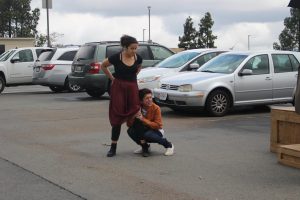 Aside from these performances taking place on nontraditional stages, the beauty of a program such as Write Out Loud is that it allows people to create their own production while weaving in modern art, such as the novel, and integrating the classic dialogue of the bard's plays.
Director Hafso-Koppman explained the inception of the show: "It started out with Brain Rickel (Grossmont Theatre Arts instructor) hiring me to do this project associated with Write Out Loud and the book. And so, I started reading the book and started thinking about what kind of show we can do that involved Shakespeare themes and 10 actors, because that's how many slots we had in the class." He continued: "The most fun thing for people to do in this type of show is to just do a lot, so that it's very frantic. So I wanted to get 10 people each playing a multitude of characters so instead of condensing one Shakespeare play, I had the idea, just given the subject matter of the book, to have
everybody feeling like they're living in exile."
Whether you're a Shakespeare enthusiast or cringe at the word "soliloquy," this traveling showcase is bound to captivate and engage you. Hafso-Koppman elaborated: "To do these scenes one after another and the theme kind of carries over so it didn't matter too much if people didn't know what the plays were, from the scenes or the whole
structure of the play. They would just see similar scenes one after the another and people getting to run around and play different characters."
After the stellar opening show, actor Kayheen Anderson described his favorite aspect of portraying Shakespeare and the personal touches of diversity the group added to the production: "One of my favorite parts about our show was the fact that we took some of the lines and put them in different languages to help the audience understand a little better," he said. "Like in Romeo and Juliet, the nurse spoke in Spanish in some parts, then Ewan Sabri played Coriolanus in Arabic." He continued: "Since Shakespeare already takes like 20 minutes to even understand what's going on, we changed the language a little bit to help others who weren't use to watching Shakespeare, understand."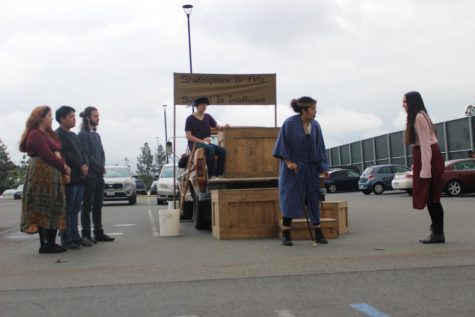 While exile remained the element of the production, another theme that rang common throughout the actors was their respect and thankfulness in having such a knowledgeable director in Hafso-Koppman. The actors praised him for teaching them, as well as allowing the actors to perform with their own personal freedom and unique touches.
"He brought a lot, a lot of energy into it, and he was always telling us to go for it whenever we had some ideas. Like for example, there's a bit where were all huddled together and, like, chanted, 'One, two, three, break.' He encouraged us, like if that's what you want go for it. Just fully commit,"
Beltran said. She further explained how the director's theater knowledge inspired them as well: "Another thing that helped is that he had us go and say certain words that are kind of funky like
'Albany' and 'doth.'"
This talented crew certainly did not disappoint in their first production of the tour as the actors engaged the audience as well as kept true to authentic Shakespeare roots, all while adding in a twist of their own. San Diego County is in store for a unique experience, as these talented actors set up their  own shop and entertain throughout April.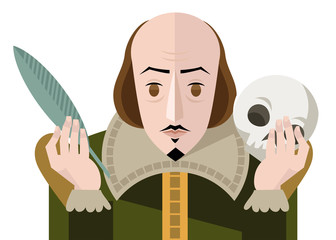 TRAVELING SYMPHONY SCHEDULE: SAN DIEGO
APRIL 12: 9:40, 10:45, 11:50 a.m. | SOUTHWEST HIGH SCHOOL, 1685 HOLISTER ST.
APRIL 13: 10 a.m. | SCRIPPS MIRAMAR LIBRARY,
10301 SCRIPPS LAKE DRIVE
APRIL 20: 11:15 p.m. | MYSTERIOUS GALAXY BOOKSTORE,
5943 BALBOA AVE.
APRIL 27: 10 a.m. | MYSTIC MOCHA, 2105 MISSION AVE.