Beach Volleyball on Pace To Take All
The Griffins display true athleticism during their Spring season as Badminton serves up wins.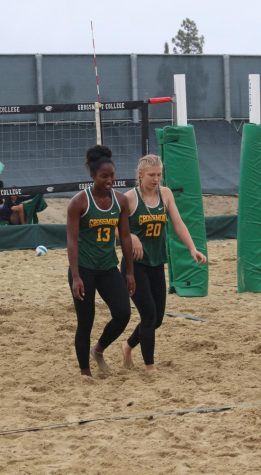 The ladies of G-House beach defend their sand. Riding a 16-game win streak and going undefeated against conference opponents, the team gears up for the CCCAA Beach Volleyball Team State Championships taking place at the Chula Vista Elite Athlete Training Center May 9-11 and followed by the State Championship Pairs tournament.
Freshmen player Shaney Lipscomb described the team's cohesiveness and continuity. "I think we've done a really good job of utilizing our athleticism. And we have a really big, powerful team this year, and we just like kind of keep our heads down and treat every game like its zero – zero, Lipscomb said.
She continued: "Even though we've had a good winning streak, we step into every match thinking like, 'OK, it doesn't matter if we've won in the past; this game matters.' And we've worked really hard throughout practice and just come together as a team and become super close."
RECORD – Overall: 21-2 | Conference: 10-0 | Home: 8-2 Away: 2-0 | Neutral 11-0