Don't Trade Your Voice Away– You May Need It For This!
Auditions for The Little Mermaid are coming up.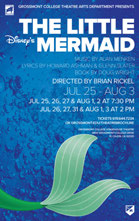 Every student who ever dreamed of becoming a part of Ariel's world may finally be given the chance to make their
dream a reality, as Grossmont College hosts auditions for its summer musical production of The Little Mermaid.
Students from all majors and musical theater experience, no matter how small, are welcome to audition for this beloved story on May 20 at 6 p.m. Professor Brian Rickel, who is directing the performance, discussed the show and what students can expect on the day of auditions.
Rickel advised those auditioning to "prepare, prepare, prepare." He elaborated: "Don't come into the audition
room not knowing what you're doing.
Understand what you're singing. Don't decide two days before your audition that you're going
to pick your material." This summer's musical at is not only a great opportunity for all performers, but also a fantastic learning and resume-building experience for those students who want to experience the
theater on a more technical side. "This program is built on a shared relationship between high school students, college students and the professional theater people in this community we bring in to work on the show,"
Rickel said. "What we are seeking are not only performers, but people who want to learn the backstage side of this— rather that means working on the crew of the show, learning to build scenery, or learning to sew costumes."
Auditions will be organized on an appointment basis. Interested students can call Theatre Operations Facilitator Alexis Popko at 619- 644-7234 to set up an audition. Students will be required to sing a 16-bar cut of a song, as well as perform a one-minute monologue; a song from The Little Mermaid musical or any other song from The Disney Songbook is recommended.
This summer is sure to be a great time under the sea for both theater and technical students. Good luck to everyone who decides to come out to audition.