Post-Pandemic Baseball
Grossmont Griffins prepare for game days again in 2022.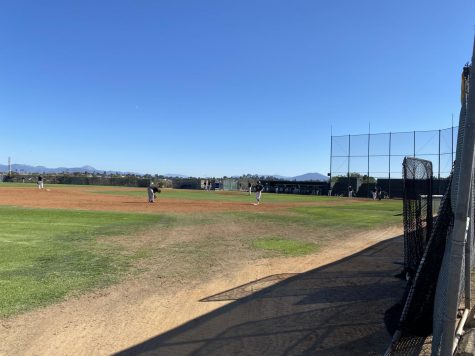 Grossmont College's baseball team is preparing for the spring semester and is working harder than ever. 
The team ended up winning the state championships back in 2017, which was the first time in both San Diego and school history. If Coach Randy Abshier can help them do that, then there is no doubt he can help them make a great comeback for next season.
"It's one of the most talented groups of men that I've had, and that starts with the pitching staff that has five guys right now that throw over 90 miles per hour, which is unique at our level," Abshier said.
Abshier added this year's club could potentially have around a few players drafted, not including the scholarship opportunities from athletes from NAIA to D1.
The coaches work their hardest to help their athletes get a scholarship and they sure succeed. About 90% of the players get scholarships, according to Abshier.
Not only does Grossmont provide academics, but it also allows athletes to continue doing what they love.
"Community college is a second chance for some of these athletes," Abshier said. "Cheer, all the way through baseball, football, and soccer. You didn't have the opportunity to go to the next level, but here in community college you get the chance to play the sport that you love for another two years." 
Grossmont students and athletes are hoping for a full crowd in the stands for the Spring 2022 season. There is nothing like being out there, ready for a good game and hearing the crowd cheer you on. It's a rewarding feeling, and some athletes crave that. 
Sometimes time off can be good. It might not seem like it at first, but you get some more practice in and can sometimes go into the next season stronger than before.
The team has had a much longer break than it preferred due to the COVID-19 pandemic. However, just because the season may have been put on pause doesn't mean baseballs have stopped getting thrown across the diamond field on a sunny day. 
When asked how he is spending his off-season and staying in shape, Grossmont Pitcher Bradley Barkley said, "Being out here, throwing, weight-lifting at the gym, and pretty much doing all the fieldwork." 
Just because the season stopped does not mean the players did too. Infielder Sean McGrew said, "My off-season is mostly just baseball and staying in the gym a lot and getting stronger for next season, and hitting in the cages as much as we can."
The Griffins may have used this long break to their benefit by practicing and getting ready for next season, but they're also probably eager to hear more than just the ping noise when the bat hits the ball. One day we will be back on those wooden benches, taking in the warm air, watching America's favorite game and cheering on the Griffins.