Grossmont Celebrates Arab American Heritage Month
A month-long look at Arabic culture and history.
On April 19, 2021, President Biden officially recognized April as Arab American Heritage Month. It's particularly fitting for 2022, since Ramadan started right on April 2. Grossmont College created an entire month of events for students to learn about the traditional Arabic culture.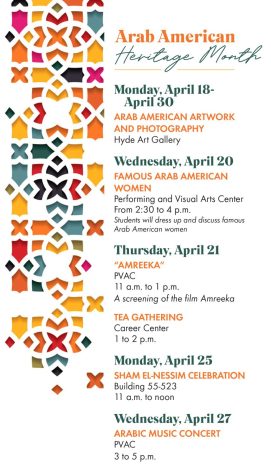 The first event took place on April 5, and looked into understanding Ramadan, a month of fasting observed by Muslims. Possibly the most well-known aspect of Ramadan is daily fasting, but also includes prayer and acts of selflessness toward the community. After the month, the final day of Ramadan is celebrated with Eid-ul-Fitr, which is filled with good food, gifts and friends.
April 11 featured the history of henna, and an opportunity to try the beautiful body art for yourself. Although henna can be used by anybody, it is largely used in ceremonies for new brides. Shortly before the wedding, the women in the bride's life come together for The Night of the Henna, where they apply henna to her hands, feet, arms, etc. The event on April 11 included a hands-on demonstration of henna that any attendees could take part in, and included baklava, a decadent Middle-Eastern dessert.
Events for Arab American Heritage Month at Grossmont continue through April 27, and feature film, music and artwork.
Ramadan Mubarak!
This article originally appeared in the April 2022 print issue of The Summit.