Under Construction
Campus building projects slow from COVID impacts.
Since COVID-19, students at Grossmont College have been gradually returning to campus from online learning. This has left some students curious about the purpose of the construction and how it impacts them.
There is currently work being done on two major projects. One is to reconstruct the roads and the other is to make a new building that will be used for math and earth science.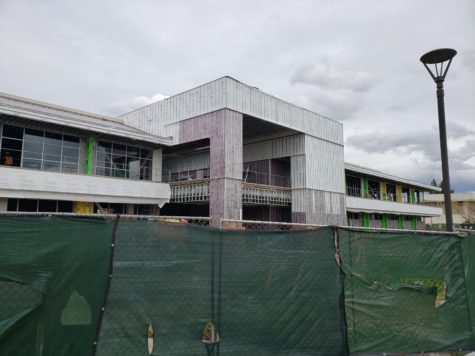 The road construction is a newer project that began in December. It has six phases of asphalt replacement and two for striping. Phases one through four and six are currently complete but phase five will have to wait due to the expended budget caused by change orders.
"The change orders had to do with what they call material condition and what that means in layman's terms is when they took the asphalt off down to dirt and of course, it's raining so the dirt part of it is soaked in water and you can't put asphalt over it," explained Loren Holmquist, director of Facilities, Maintenance and Operations.
Due to this, workers had to dig deeper and wait for everything to dry. It was also discovered that soil conditions on campus are not very conducive. "So what that did is we had to spend more money on changeovers which is fixing the issues as they came about and because of that, that expended our budget," Holmquist said.
The construction of Building 36 has been in progress for about two years and is approximately four months behind schedule, but is catching up. One reason for this is the lack of workers caused by COVID.
"Contractors and union workers don't have enough workers, so there's not enough workers to be on the construction site to do the construction work in the timeframe it was allotted," Holmquist said.
Another cause of delays is the cost of materials which has "skyrocketed ever since COVID hit," according to Holmquist. Materials have also had problems with lead-time, which is how long it takes for materials to arrive. They have been delayed anywhere from a week to two years in some instances.
Despite these issues and delays, the building is expected to be finished somewhere between the summer and fall of this year. "I love construction, I always love seeing construction completed," Holmquist said. "Building 36 is going to be exciting."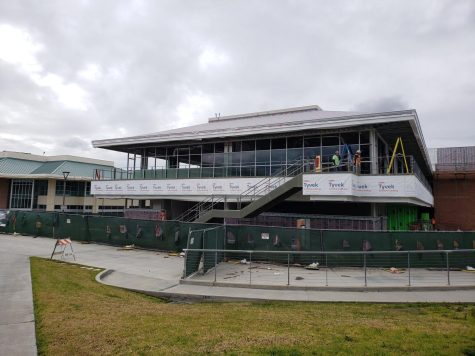 One of the next projects is going to be a renovation of Buildings 51 and 55 so that they will connect to the chiller plant in Building 71. "It cools water and then sends that cold water to each building, and then when it gets to the building it goes to a piece of equipment…called an air handler," Holmquist said. "It converts the cold water into cold air."
This project is planned to begin in August and will help with energy costs and sustainability.
There will also be some modifications to Buildings 52, 53 and 54 with new wall paint, base molding and chair railing. This is expected to happen in July. In the summer, Building 55's computer labs are going to be relocated to Building 70. There will also be items related to mathematics and tutoring transferred from 70 to 55. Renovation is expected to begin on buildings 51 and 55 around February of next year and finished by September 2025. A potential future project is on-campus housing for students which would be located in the dirt lot next to lot 4A.
"That does not mean it's going to happen but it's a plan that's submitted to the state," Holmquist said.
Leave a Comment
Your donation will support the student journalists of Grossmont College. Your contribution will allow us to purchase equipment and cover our annual website hosting costs.
About the Contributor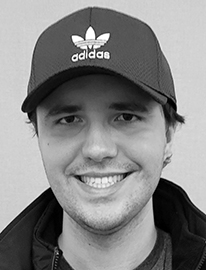 Jacob Houseman, Staff Writer
History and journalism major hoping to transfer to SDSU. Spends his free time reading books, comics and playing games.