'Men in Black' are public safety officers aka the campus police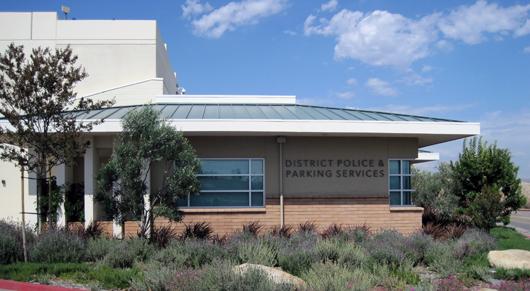 GROSSMONT COLLEGE – You may see them on your day-to-day activities as you cross Grossmont's 135-acre campus. No, they are not hiding from you; they are Grossmont's own Men In Black.
The Department of Public Safety, located on the east end of the school's parking structure, offers students many different services. For example, students are encouraged to come to the department office to file property damage reports, accident claims, and even any grievances citation appeals.
The police station always has officers on duty to respond to situations on the campus. While most of their responses tend to be investigations of theft or property damage, their services also range to escorting students in need and assisting in the unlocking of vehicles.
Dave Peralto, a supervising officer on campus, insists that students should "secure their vehicles and hide their belongings from plain view," in order to reduce crime.
There is a lost-and-found area at the station where students may drop off items they have found unattended on campus or check for anything they may be missing.
Any student seeing suspicious activities or break ins should inform the police department, which can be reached at 644-7654.. While the dispatch office is available every day around the clock, normal business hours are Monday through Friday 7 a.m. to 10 p.m.; Friday 7 a.m to 3 p.m. and weekends closed.
*
Jeitler is a student in Media Comm 132. He may be contacted at [email protected]