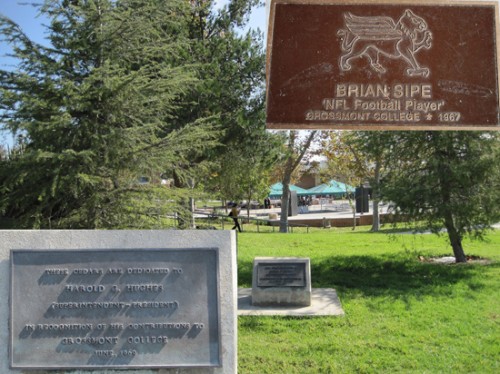 GROSSMONT COLLEGE – There are campus recognition plaques for all sorts of students and faculty who went on to become major league athletes, actors, advocates, political figures and important members of our own Grossmont College.
Around campus you may have noticed small plaques honoring members of Grossmont College or even walked across the "Walk of Fame". What you might be asking yourself when you come across these monuments of dedication is, "who are these people?"
The walk of fame is located at the bottom of the staircase in the main quad. Sports fans attending Grossmont may recognize a few of the athletes honored there. For example, alum Brad Daluiso was a kicker for 12 seasons in National Football League, and Brian Sipe was a quarterback for the Cleveland Browns during the 1980s.
Other walk of famers are saluted for having given back to the community– through donations, research or even through public service such as the most recent inductee, El Cajon Police Chief Pat Sprecco who enrolled at the college in 1973.
The Walk of Fame was inaugurated in 1989 when the Grossmont College Foundation donated bronze plaques towards the appreciation of distinguished Grossmont College alumni.
There are also tombstone style monuments around campus. One of the more prominent displays is actually hidden in plain view.
Harold G. Hughes was appointed the first superintendent of the Grossmont College District in 1961. Previously, he taught chemistry at Grossmont High School in the 1930s, served in the Navy during World War II and afterwards became associate superintendent of the Grossmont High School District. He was credited with using his financial prowess to help engineer the funding and building of nine high schools within the district.
It is unknown at this point whose name will next grace the Walk of Fame, but as long as the program continues, students may one day find their accomplishments embedded in stone at Grossmont College.
*
Jeitler is features editor of the Grossmont Summit. He may be contacted at [email protected]