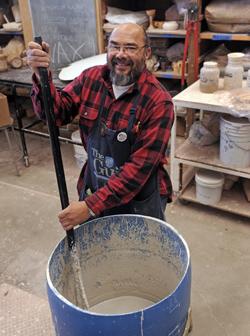 GROSSMONT COLLEGE — Al Ventura, a ceramics technician on campus, recently was successfully nominated by sculpture technician Tom Fox  for the Chancellor's Classified Senate Award for the last quarter of 2011.
In Ventura's honor, a conga line led by Chancellor Cindy L. Miles wove through the school and ended at his office with an engraved award and a gift certificate for Barnes and Noble, presented to him on January 17.
Ventura has been a very involved individual in the art industry. He said he became interested in art as a young boy and continued to pursue it as a man. His college major was in art and now he has the opportunity to do what he loves every day.
He recently described the act of ceramics and pottery as very calming, and a great way to channel emotion.  He and some art faculty members have helped develop the "Veterans Art Project" in which military veterans are encouraged to us their hands as a means to unwind with other veterans.
*
Laurvick is a student in Media Comm 132A.  She may be contacted at [email protected]