Spring Forward
STORY AND PHOTOS BY BRIANNA TYSELING | MODELED BY JULIA TYSELING
OPEN UP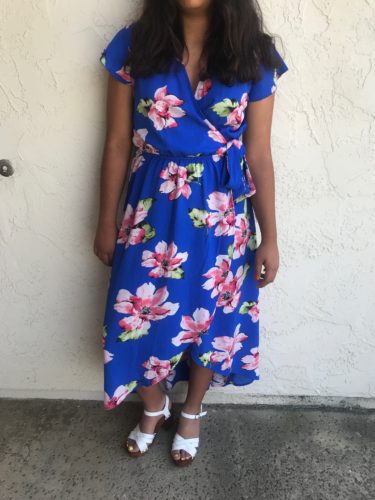 The open-front maxi dress is a popular trend this spring. It differs from the traditional floor length maxi dress, but it still gives off the same elegant look. This particular dress features an open front and a side tie– two very popular upcoming styles to look out for this spring. The open-front maxi dresses are comfortable, but fashionable. This royal blue dress features many popular spring colors, including white, pink and green. As far as shoes go, white strappy sandals are in style this spring.
TOP OFF YOUR LOOK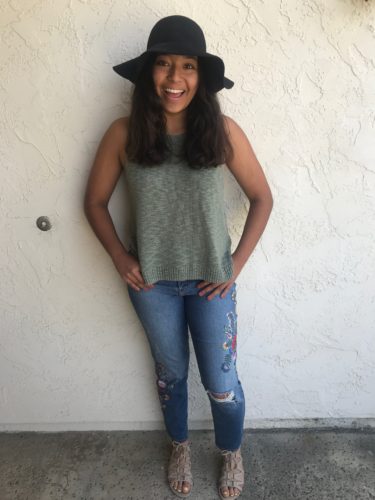 Hats are a must this spring! Not only will they protect you from the sun, but they are absolutely adorable. Pastels are in style this spring as well and will bring a soft touch to your outfits. This pastel green looks great with regular jeans, but looks amazing with these floral jeans. Yes, floral jeans are a thing, and they're actually becoming pretty popular. You can find many different types of floral jeans; they can be completely floral or just have patches of floral on them like the ones pictured. These are best worn with a plain simple t-shirt because the jeans are the statement piece of the outfit. This outfit is complemented nicely with beige lace-up sandals.  
BE DARING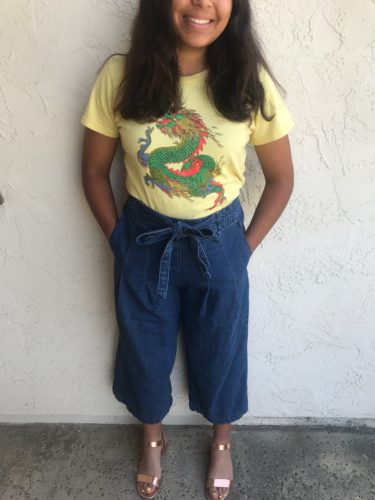 This yellow dragon print shirt is quite different from the typical "springtime looks," but it's visually pleasing and unique. Dragon print has slowly been making its way to shelves; it's not for everyone, but with the right outfit it can work. These wide-leg, flowy pants, which contain a bow in the front, are becoming more and more popular. These types of pants are most definitely more comfortable than regular jeans because they aren't skin tight. Flowy, wide-legged pants have especially become more popular this season, and it's assumed they will be a fashion favorite for 2018. The simple sandal style pictured is the go-to shoe for any outfit. Although the sandal is simple, it still looks nicer and adds more detail than a flip-flop.
KEEP IT SIMPLE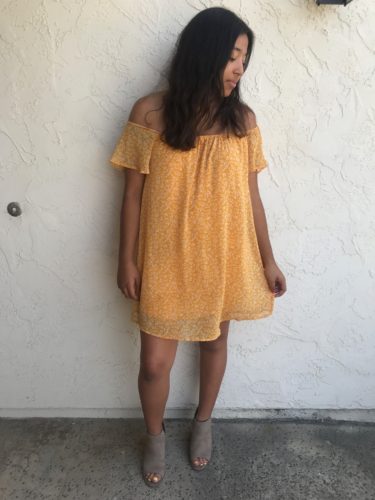 This short yellow floral dress, paired with open-toed taupe boots, is the perfect outfit for spring. The simplicity of the dress is what makes it appealing. The tiny, white floral print on this dress is a nice touch and complements the yellow well. It's comfortable, and it looks like you put a ton of effort into your outfit– but really it's only a dress and shoes, making it the perfect lazy-girl look. Not to mention, yellow is extremely popular and eye-catching. The open-toed boots were popular during winter, but their popularity is moving into spring as well. The open-toe makes it look like a spring shoe even though it's a boot style. This shoe can be paired with jeans, dresses or skirts, and looks great with all three. It's a simple shoe that can work with practically any style.