Extreme Makeover: Grossmont Field Edition
After nearly two decades of being stampeded by the jagged cleats of student athletes, the Grossmont Football/Soccer Field will be receiving a much deserved remodel, providing better safety conditions for players while featuring upgraded state of the art technology.
A lonesome rusted pole, resembling what was once a football goal post, sits nestled in front of a decaying scoreboard on the suffering, outdated turf of Grossmont's field. The goal post – which lacked an upright bar, rendering it half a goal post – affected scoring, which, coincidentally, could be excused, as the scoreboard itself has been non-functional for a number of years.
Unfortunately, these inadequate facilities had become the epitome of Grossmont Athletics; not living up to the standard of quality and safety that student athletes deserve. Jay Williams, the current offensive lineman for Grossmont, described the current field condition as "worn-down and outdated," referring to it as "colored rubber."
The school can now begin to shed that reputation. After 20 years with no significant upgrades, a complete remodel, including demolition of the football/ soccer field and track, is finally taking place at the college.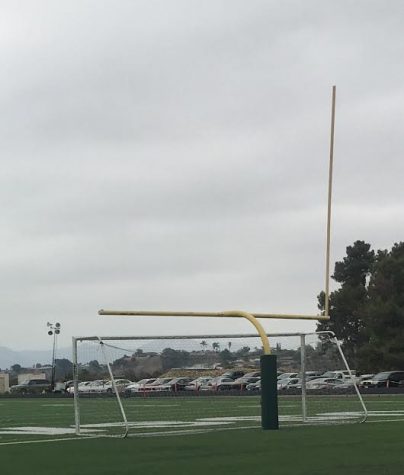 The school's Associate Dean of Athletics, Thomas Armstrong, projects "Demolition on the football/soccer field and track will begin in November and completion is slated for the start of spring 2019, while installation of the scoreboards may begin as early as October."
The Griffins' football team will be forced to play away games for the 2018 season at local high schools while construction is in progress. The effort will be well worth it, as the highly improved amenities will consist of not only high-tech technology, but also provide a fresh look and feel.
A major feature of this construction will be the installation of turf that is "player-friendly" for the athletes, which is essential for safety and injury prevention. The new turf will be equipped with a cooling agent to regulate the temperature in order to prevent the field from overheating. This feature will not only be a positive addition to the school's athletic teams, but will also provide a spacious area for Exercise Science classes, such as yoga, to take place.
Other safety issues being addressed with the remodel include removal of a cement curb located in between the football field and track along the perimeter. While initially, 20 years ago, this "safety curb" was designed to irrigate water from the field, instead it caused flooding of the track. While becoming regarded as a safety hazard, it was easily tripped over by players and made conditions difficult for medical attention to gain access on the field in the event of player injury.

The addition of a tech-savvy scoreboard is destined to attract millennial audiences as it will be equipped with digital and wireless technology. These features will enable videos and photos to be posted and featured on the screen, bringing Griffin school spirit to a whole new level.

This field of dreams was able to become a reality two years ago when Armstrong took the position of Associate Dean of Athletics for Grossmont College. By prioritizing and spending district money more responsibly, Armstrong, as well as other members of the Athletic Department, was able to transform and drastically improve many of the school's athletic facilities, using outlets such as fundraising and being intelligently frugal.

"In just two years we have eliminated the process I referred to as spending three district dollars to earn one dollar in individual fundraising," Armstrong noted.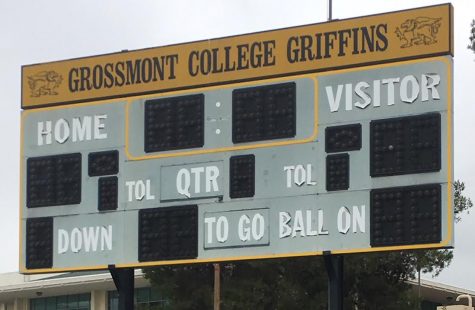 Armstrong's notion of fiscal responsibility has transpired into the much needed remodel of the football field, along with numerous athletic facilities around the Grossmont campus. This dedication has paid off, as – in less than one year – the school will have accomplished a feat that has not been achieved in over two decades.
Grossmont Offensive Lineman Bob McDonough said "new turf" is what he is most looking forward to with the coming remodel, as the current patchy field "hurts while practicing" on it.
Finally, the grass – well, technically turf – will soon be greener for Griffins. With a field goal post that will stand tall with two bright upright bars, players will at long last be proud to play for the newly improved Grossmont College.