You Got Denied, What's Next?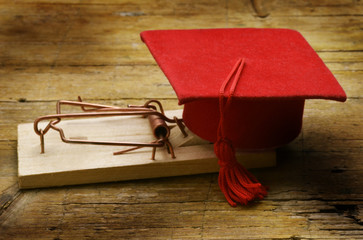 Follow these steps if you have been denied admission to your school of choice.
It's the most wonderful, yet terrifying, time of the year for transfer students. After months of waiting, the time has come for universities to send out admission decisions.
Whether you have applied to multiple schools or just one, have already received admission news or are still waiting, there is still the chance your school of choice does not accept you. Being denied admission is not easy to think
about, but universities are becoming more competitive year after year, and while it is great so many people are furthering their education, those who apply have to be competitive while knowing there is a chance they may not be
admitted.
The associate degree transfer pathways are designed to provide priority or guaranteed admission to qualifying universities. While the transfer pathways do give some assurance, there is always the unpreferable possibility that your school of choice denies your admission.
If you have been denied admission, don't fret. There are multiple options for you to explore and you can find them here at Grossmont College. While Grossmont does not have a specific program for students who have been denied
admission, there are counselors, workshops and other events to ensure you get all the guidance and information you need.
Some reasons for denial include not meeting the GPA requirement, not completing all general
education requirements or not completing the supplemental application, to name a few,
according to Grossmont counselor, Sarah Moore.
If you get denied, the first step would be to contact the admissions office of the university. "As soon as the student hears that they have been denied admission, it would be important for the student to reach out to the university to ask about the specific reason he/she was denied," Moore
said in an email.
From there, "it is very important that each student in this situation meet with a counselor to develop a next steps strategy," Moore said. Grossmont counselor Anne Nelson said meeting with a counselor is recommended because it is a "case-by-case basis on what we would advise" for a student who has been denied admission. Students can make appointments at the Transfer Center to get "individual advising
on why they weren't admitted and what their options would be."
Moore said one step to take is "appealing the admission decision if the student has extenuating circumstances and has met minimum admission requirements." However, the appeals process is particular, and some universities only accept complex and serious appeals, so a simple application mistake may not be feasible.
If the appeal process is not a fit for you, reapplying for the next year is another option. For a lot of students, being denied means "reapplying in the next application cycle," Nelson said.
Reapplying for the next year will give you time to complete any extra or required courses, if there are any, and improve your GPA if necessary. You can also "consider applying for spring admission to schools that are open for spring admission," Moore said.
If you do plan to reapply, Nelson said, "It is very important to come to the application workshops we have in the fall." She added they are there to guide students through the application process and fix common mistakes.
Moore agreed. "We also offer 'I Got Denied… Now What?' workshops in the Transfer Center," she said. Attending a workshop will give you insight and the opportunity to converse with other students in the same situation.
You can also "attend the spring Transfer Fair on April 10 from 10 a.m. to 1 p.m. in the main quad to talk with university reps from schools that will be accepting applications for fall/spring," Moore said via email. Talking to a university rep may give you more insight on the what the university looks for in an applicant and how you can make
yours more competitive.
In addition, attending the fair may help you find other schools you had not previously considered. Nelson said it is also important students "do not delay coming to see us if they have been denied admission because it might eliminate alternatives they might have had." Of course, there are a few other options, like applying for
a mid-year transfer to universities that offer it, as well as looking in to private schools; however, the availability of those options differs for everyone, which is all the more reason to go speak with a
counselor, Nelson advised. The route to take if denied admission "depends on (a) student's needs, major and academic history," Nelson said. So, what you do if you are denied admission depends entirely on you as a student and your academic needs. Grossmont has a great counseling team prepared to help the individual needs of any student who seeks guidance.
Just remember, being denied admission from a university is not a reflection of your full potential, and Grossmont has counselors, workshops and events to guide you to your second chance.