On-Air With The Scouts
The Boy Scouts of Troop 339 from El Cajon graced the airwaves of Griffin Radio to earn merit badges in media communication.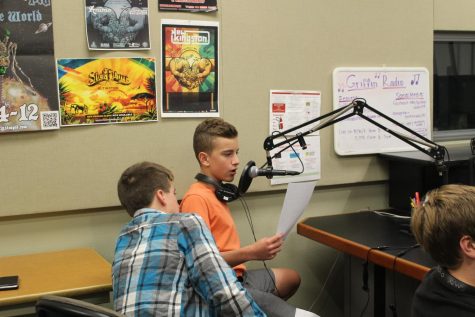 Forget about the classic film Good Morning Vietnam (although Robin Williams was amazing) and welcome instead: Goodnight Grossmont, delivered by the new disc- jockeys of Griffin Radio, Troop 339 hailing from El Cajon. While no one in the Grossmont radio station needs to worry about these Boy Scouts taking their jobs just yet, the night of Feb.26 could give them reason to wonder, when at 7:00 p.m., the Scouts filled the airwaves of Griffin Radio live to obtain their merit badges in Media Communication. The group consisted of seven boys ranging from ages 11-14. They were able to get a feel for the radio station, reporting on topics such as recent news and recording artist bios' while playing all the hit jams supplied from producing their own playlists.
Fourteen-year-old Scout member Jack Faradjian, a self-proclaimed "local boy", described himself after delivering a top-notch newscast that would make Howard Cosell jealous:
"339 in El Cajon, it's a great troop. I'm a local kid, I go to Christian Unified." Faradjian continued, describing his favorite part of the broadcast: "I really liked reporting the news. I try to educate myself, I listen to a lot of the major news like Fox and CNN."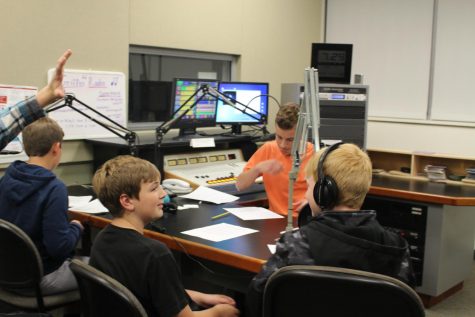 While Boy Scouts, in general, are typically renowned for their outdoor skills and survival knowledge; their popular motto "always be prepared" applies to a plethora of scenarios.Troop 339 Coordinator David Madsen explained:
"It's more than the typical outdoors-man experience. A lot of them (merit badges) are vocational based, in addition to the wilderness survival and first aid." He continued: "People kind of don't realize that the Boy Scouts are more than just the outdoors. Outdoors is a tool that we use to teach them life and leadership skills but there are also other opportunities; this is one where they get to work together as groups to put together the radio broadcast and deliver it on the air. They did a good job."
Troop 339 divided into groups to deliver the stellar live on-air production. The boys were individually in-charge of specific aspects such as writing a script for the news and having a list of songs ready for play, backed-up with researched information about the performer. Faradjian explained:
"It was really fun! A buddy of mine, Nick, totally helped my group a ton being on the radio, he wrote up a script so that saved us." He continued, "I can imagine he spent at least 30 minutes doing that. I researched the songs in- depth trying to figure out the artists we were playing."
In order to obtain the prestigious badge, the Scouts had to muster a live on-air broadcast that would span at least 30 minutes. Which in 'radio- time' can feel as long as an hour or as little as five minutes; especially for those unfamiliar with the media industry, this task can be terrifying.
The Scouts were more than willing to step up to the challenge and shake-off any 'on-air' jitters.
Especially Faradjian, who had previously dipped his feet into the 'mcomm' waters. He explained how participating in numerous media communication type activities around his high school campus have helped prepare him for this event:
"At least my video background at school helped. It's kind of big trying to get over the fear of being on tape or live and stuff so that helped."
Dr. Evan Wirig, the chair of the Media Communications Department , has been welcoming the Scouts to Griffin Radio since 1998 helping them to gain their achievement and learn radio production skills. Wirig expressed what he cherishes most about hosting the event:
"It integrates us into the community; to say that we're not just an aspect of an ivory tower mentality but we also help other people out."
He continued: "Being a part of the Boy Scouts, helping them obtain their goals and merit badges, what have you,  I think we need to offer ourselves up to those types of opportunities to show that we are really a community college."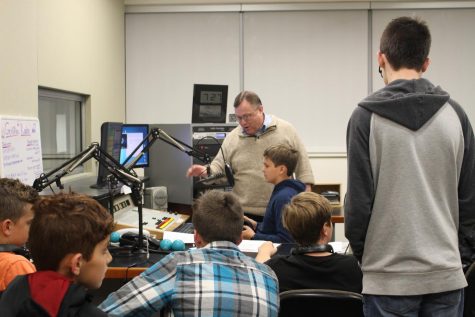 The Scout's production went off without a hitch as they worked professionally as well as cohesively under pressure to deliver smooth, clear and informative broadcasts. The night proved to be a pleasant success as the Scouts of Troop 339 were able to obtain their merit badges and the listeners of Griffin Radio were gifted with a refreshing auditory treat. The Summit joyfully sends its congratulations to the Boy Scouts of Troop 339 from El Cajon.