Conservation Tips with Ms. Smarty-Plants
Check out what the Water Conservation Garden is offering to the community.
Whether you are a conservation enthusiast or simply an appreciator of nature, The Water Conservation Garden at Cuyamaca College was created to supply you with information and relaxation as you explore each path's unique beauty. Walking through the grounds, you will notice a plethora of different exhibits such as the butterfly pavilion, native habitat and sensory garden. Herbs, succulents, flowers and trees are incorporated to create a soothing environment.
According to the website (thegarden.org), The Garden provides community events such as yoga classes, gardening workshops and youth field trips. The gift shop on site is filled with educational books, toys and gifts to remember your visit. One of The Garden's greatest community contributions is the Ms. Smarty-Plants program. This program was created in 2008 by Pam Meisner, who is also the director of operations and programs, to emphasize youth conservation empowerment through field trips and school assemblies.
Meisner, also known affectionately as the original "Ms. Smarty-Plants," said The Garden's mission is "to educate and inspire people on the use of natural conservation efforts for water and other natural resources."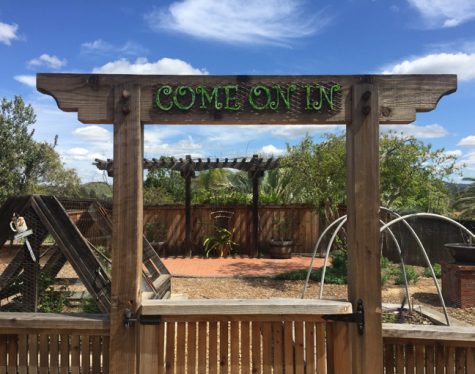 The same valuable information and principles she offers to children holds true for college students as well. Although our individual efforts may seem in vain or insignificant, Ms. Smarty-Plants reminds her students, "We can change the world with our own two hands." She encourages simple methods of being earth-wise in our daily lives such as taking shorter showers, using a nozzle on the hose, watering close to the plant and using mulch correctly in landscaping.
Guillermo Urbina-Tapia, a cardiovascular technology major at Grossmont, said: "I use plastic straws… I'm not going to deny that. But I think I'd like to try the reusable straws you can even buy on Amazon."
He added, "It's worth a shot even though it's only a little bit of effort." Ms. Smarty-Plants' gentle reminder to her students is: "When you go to the desert, I want you to leave only footprints. I don't want you to take anything from it, I don't want you to put anything there."
This principle holds true for any component of nature: the ocean, the mountains and everything in between.
"If you want to take care of the animals– let's not throw trash on the ground," Meisner said. "Better yet, the real, true hero is when picking up someone else's trash." Be aware of the trash you see even walking to your next class, and don't wait for someone else to take action. Make Ms. Smarty Plants proud and be the "litter gitter"!
When talking about prioritizing and solving large environmental issues, Urbina-Tapia said: "I'd start with littering. Having trash cans anywhere and everywhere. You'd be rude not to use them."
Although there are legal consequences for littering, Urbina-Tapia said: "It's hard to catch someone doing it."
Signs cautioning $1,000 fines can be seen while driving down side roads and freeways. Urbina-Tapia said: "Although the police force does see it and pull people over for it, it's not on their top list of priority. If we want to prevent littering, there needs to be higher penalties."
He concluded that ultimately, "It's a moral issue."
Meisner practices what she preaches. Her cottage/office on the grounds is a renovated tool shed with recycled windows and doors and reused wood. In fact, when asked what her favorite part of The Garden was, she said: "My cottage and my fairy garden area. This is a labor of love. It is so whimsical and fun."
When you visit The Water Conservation Garden, you might wander on her porch to admire the creativity and color like many other visitors before you.
The Garden is located adjacent to Cuyamaca College in the heart of Rancho San Diego and is open to the public every day from 9 a.m. to 4 p.m.
As college students, the word "free" is music to our ears. Fortunately, The Water Conservation Garden welcomes all visitors for free. This has the potential to be a cheap afternoon in solitude with friends, a date or your textbooks.
Hopefully experiencing the nature at the Water Conservation Garden will motivate you, even as a college student, to be active in preserving this earth.