The Art of Hip-Hop
Inside the world of Arnel Calvario and his love of teaching and expressing dance.
It's not every day we get a celebrity at Grossmont. In early April, though, Dr. Arnel Calvario stopped by to give students an unforgettable hip-hop lesson. His energy pumped-up the crowd as he gave them the inside on techniques. Calvario has visited Grossmont over the last couple of years, not only to educate the students through a lecture, but also to give a lesson in dance.
Calvario is an interesting source of knowledge in the dance community as he grew up in the 1970s. He's very passionate about educating and spreading his knowledge of the hip-hop scene, using his talents to promote community outreach.
"I'm really big on connecting with communities that haven't received any, like those resources everyone
should have, that attention that they desire," he explained.
The fact that he was able to teach at Grossmont was an amazing opportunity, but being from the Los
Angeles area, it was interesting how he found the school.
"Definitely through Melissa," he said. Melissa Adao is a dance instructor at Grossmont who loves sharing the
importance of dance but also the history that started it.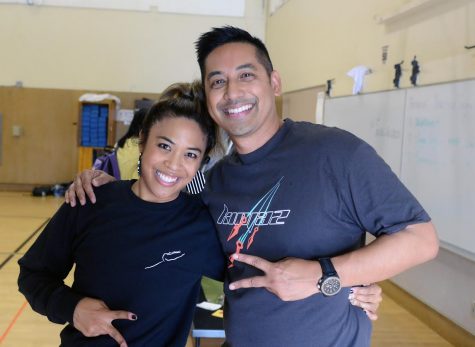 He continued: "Melissa and I have known each other through the dance community for a very long time, and she was really committed to bringing the history aspect of the education to Grossmont, so she asked me."
Calvario has dedicated himself to the California dance scene since his college days. In 1992, he founded Kaba Modern, a dance group originating from UC Irvine. He continues to be
an advisor for Kaba Modern.
In 1998 he joined Culture Shock Los Angeles, a non-profit organization that utilizes dance for community outreach and education.
"The first one started in San Diego and then, in 1994 it moved to LA, San Francisco and Las Vegas, then it expanded to New York, Chicago and went international. We're all on the same mission using dance to promote ideals like self-worth, dignity and respect to all people," Calvario said.
Calvario was attracted to three hip-hop styles in particular. Popping, a dance about quickly contracting and relaxing muscles and locking, a funk dance of locking or freezing movements in a fast motion and breaking or break-dancing.
A lesson in locking was his main subject during the workshop.
"I love the energy and positive vibes locking gives, and I'm really glad I was able to be a part of it," Rainer Martinez, a student at Grossmont recalled as he wiped the sweat from his forehead. Dancers were moving to the beat of the music as he led them through the steps of the "lockers handshake."
"In the artform of locking, there's a handshake, which is a sequence of dance moves, about eight counts long. All lockers around the world; we all know that sequence," he said.
Locking holds close to Calvarvio's heart, demonstrated when he entered an international dance competition. People all spoke different languages, but once one started the lockers handshake, they all connected.
"That's the beauty of that dance," he said. "Because it's so communal and about connection, with the lockers handshake you can really feel the energy; that's why I love locking cause it brings people together."
In college, blending old-school and new-school, he created Kaba Modern, and trained by fellow dancers, he joined in on the Culture Shock LA scene. He started to take classes from a man named Tony T. from Japan, getting a whole new point of view with teachings from the region. It was really disciplined in fundamentals: to be strong, to dance big and be bouncy.
From learning and showing off in clubs, he actually ran into the creator of locking, Don Campbell, who set aside time to have Calvario and his dancers meet up at clubs and teach them his philosophy. "Combined with my Japanese training and his philosophy, ends up where I am now," Calvario said.
Calvario is in a group called Kinjaz: "Kinda like 'ninjas,' but with a K," he explained. "Its root is in kinship and brotherhood; it started in 2010."
He explained that two young dancers he mentored joined Culture Shock and created a "brotherhood of all." He reminisced about how they were all friends and competed against each other, but respected each other as dancers. He also said that a person can't just audition for a part; you have to be asked. It's not the talent,
but the mentality of the 38 dancers that give them a strong bond; they all share similar positive mentalities in Kinjaz.
Because of the group's amazing talent, they got to be featured on "Challenge of Champions" for America's Best Dance Crew. Being the wild card, they made it all the way to the semifinals before they were eliminated. A year ago, Kinjaz was approached to be on World of Dance, Jennifer Lopez's new show. He tells how they were smarter about each episode they performed.
"We figured this was a way to connect with more people and whether we win or lose, if we connect with more people we win," he said.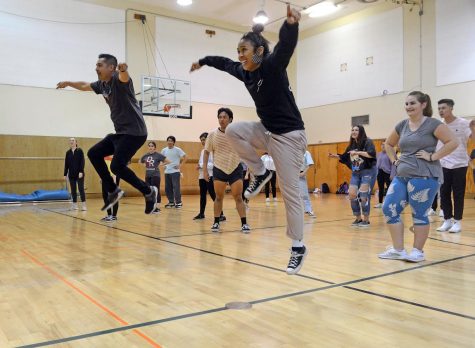 He's also proud to look back on his creativity with occupational therapy and emphasis on pediatrics. Initially, he wanted to be a pediatrician, going on medical missions and performing surgeries. His original plans changed after seeing the rehab process his brother went through: "My brother, when he was about 7 years old, got hit by a car in our cul-de-sac. Someone was driving 45 mph and hit him," he recalled.
"He was getting physical therapy in our house because of all the devices and stuff, and I knew right away."
Calvario went into physical therapy and bumped into occupational therapy. "Of course, like a lot of Filipino parents, they want you to be a doctor, so I was already kinda influenced to look into the health science field," he joked.
He now works at Long Beach Unified School District, where he helps children restore their abilities and get their functions in fine motor skills, like writing and working on the computer. He finds occupational therapy creative because he really gets an inside look at what a person's life is like.
He said he loves his job and jokes about getting "paid to play," adding that college is all about exploring: "Be an active participant in exploration. Just try different things, because if you keep trying and exploring, you end up bumping into what you're meant to be."
He continued: "I think when we just feel expected or pressured into doing something, we don't end up fulfilling our true destiny. Spend as much time as you need to explore… It's an investment to your life."
Calvario is a true inspiration because he is so dedicated to his work. He's shared so many positive influences with the world.