Notre-Dame Cathedral Wrecked By Fire
One of the most recognized churches worldwide, the 850-year-old Notre Dame Cathedral in Paris, France suffered a devastating fire.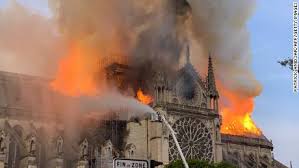 On April 15, the spire and the roof of the cathedral caught fire while undergoing restorations. French officials reported that a fire alarm went off at 6:20 p.m. but no fire was discovered. A second alarm sounded at 6:43 p.m. but by this time, the fire had already spread.
Sources have reported that the fire spread quickly. In less than one hour, it had already reached the spire which was rapidly destroyed engulfed with flames.
While the cause of the fire remains unknown, the cathedral's rector, Patrick Chauvet said that a "computer glitch" might have been to blame. According to the French newspaper, Le Parisien: the flames may have started at the bottom of the cathedral's giant spire and may have been caused by an electrical problem in an elevator.
There are currently about 50 detectives involved in the case, all of whom have stated that the investigation as to what started the fire, could last from one to three months.
Although the fire razed the cathedral's roof and spire, 400 firefighters were able to save the main structure after fighting the blaze for 12 hours.
Many people around the world have mourned over the loss of the Notre-Dame cathedral that was built more than 800 years ago. Millions of tourists visited the cathedral each year. It was known for its size, architectural design and its history.
Notre-Dame cathedral holds a special place in the hearts of many and that is why people are starting to pledge to help rebuilt this historical landmark. $1 billion has been raised so far by well known companies and people around the world. However, the cathedral's spokesman recently stated that $1 billion may not be enough.
Experts have stated that it could take decades to rebuild the cathedral, but despite how long it will take, people are still trying to fundraise more money.