Men's Tennis Narrowly Squeezed from Postseason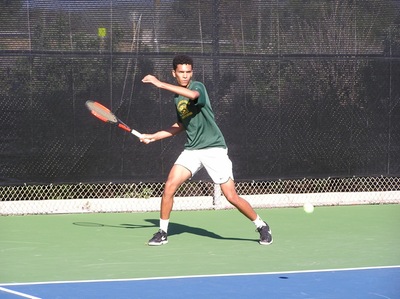 While the Men's Tennis Team's record of 12-13 may not necessarily appear stellar on paper, the Griffins showed up when needed the most- against Pacific Coast Athletic Conference rivals. Sporting an 8-4 conference record, the team was a force to be reckoned with against inner East County rivals, but struggled throughout the season against state-wide opponents.
The team's winning percentage fell just below the .500 mark, landing at .480 for the season. In good Griffin fashion though, they finished strong, winning their last two games against conference opponents San Diego City Knights and San Diego Mesa Olympians.
G-House wins were fought with authority. Back-handing opponents, they served 9-0 shutouts to seven teams throughout the season including conference rival Palomar. They racked up back- to-back shutouts March 19, when the Griffins traveled to Imperial Valley to take on the conference contenders.
Overall:12-13   Conference:8-4 Home: 6-6 Away: 5-5