Cool Field
Grossmont opens its freshly remodeled track and field, including new technological amenities, improvements for player safety and even temperature regulated Coolplay turf.

After nearly two-decades of play-time, February marked the grand-opening of Grossmont's remodeled and upgraded
track and field, which began construction November 2018.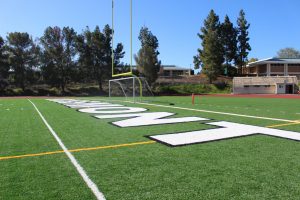 While this flashy new football/soccer field not only sports state-of art technology such as a newly-installed, tech-savvy scoreboard, the project also provides player-safety amenities such as Coolplay turf. Funding was set aside over time in order to pay for the remodel, which was originally part of the Proposition V Funded Project.
Apart from being an embarrassing eye-sore, the previous field not only had structural dangers to players – such as a cement curb, which surrounded the perimeter – but the turf itself created player injuries because it was so outdated and torn. In replacement, Grossmont chose Coolplay, a sand/rubber infill turf system that remains at a cooler
temperature compared to traditional systems.
Grossmont Football Head Coach Michael Jordan expressed how relieved he is for his players to finally play on a NCAA standard-regulation field: "It was a big accomplishment," Jordan said. "It's not a new field— more of a replacement, something safe, which it should have been all along. It was bad and the hash marks were all torn up. It was a dangerous situation."
Jordan said he appreciates the new field. "It's nice, he said. "It's a top-of-the-line field, so we're looking forward to the cushiness because the old field was so old, it was super-compacted
and hard." He continued: "More importantly the players won't be getting injured as much. We have concussions because they hit the ground hard, and it's like concrete. So now, it's a good feel. It has a cooling agent in it that gets about 30 degrees cooler because in the summer, it gets very hot out there."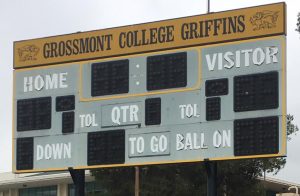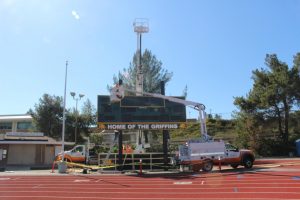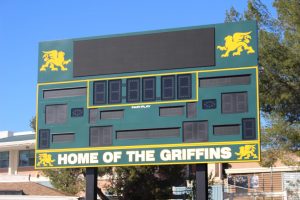 The Coolplay turf is top-notch and caters to player safety and comfort through hard-hitting G-House games. According to the Grossmont Athletics Department website: "Coolplay is a threelayer system composed with a first layer of sand, then a patented mix of sand and cryogenic rubber, and a layer of cork. It is 35°F cooler than traditional sand/rubber infill systems. It is resilient with excellent shock absorption capacity, having met or exceeded
industry standards for immediate and long-term player safety."
Grossmont student Max Ortiz currently takes soccer as an Exercise Science class, and is able to play on the remodeled field.
He said: "Overall I'm happy with the new field. There was a huge mound in the middle, so it looks like they've leveled that out a little better. It definitely feels a little softer, I think they did a good job."
While the most important improvement on the remodel list was improving player safety, there were also some eyesores that had to be addressed as well, such as the field goal posts and scoreboard. These tattered structures were not only unbearable to view, they also interfered with gameplay, especially the broken field goal posts.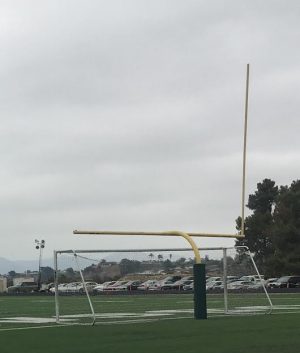 "We have regulation goal posts which we haven't had, ever. Last year we had a missing goal post for the whole
season, so practice was hard, we didn't play here last year because we didn't have the facility, Jordan said.
Along with the replacement of the freshly painted posts, another necessary element of any stadium, not just for the players use but for fans as well: a functioning scoreboard.
The new tech-savvy board is "top notch" according to Jordan. It was installed in March and has state-of-the-art LED
projection features so G-House can represent its wins proudly. It can also respectfully celebrate not only Grossmont, but also its patriotism, with the addition of a flagpole.
While, nobody is complaining about this spectacular remodel; students as well as staff though can not help to notice that certain facilities are still lacking throughout the stadium, such as bleachers and restrooms. While there are portable toilets located on the east end of the track; many feel it would appear not only more professional to have functioning restroom facilities, but will benefit hygiene and sanitation as well.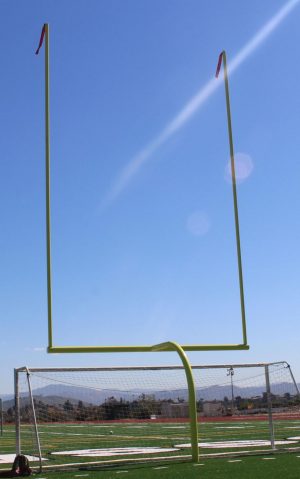 Student Andrea Navarro, who is in the same class as Ortiz suggests the portable toilet setup can be slightly annoying: "It's not too much of an inconvenience for us, but like if you're not from here, then it's a little like hard, like for football games or whatever."
Regarding the lack of bleachers, Jordan said: "The only thing is that we have no seating. They have sections of five-high bleachers they're going to put around the outside of the track somewhere." He admits: "It's still a little embarrassing. I have to explain to the recruits why we don't have them."
While staff and students hope that these missing features will be in the works soon, for at least now they can celebrate the fresh turf and track.
"The field is nice; the field is great," Jordan said. "We're very grateful to have a field because, like I said, it's more injury prevention, just the longevity of being on there… a lot longer with the coolness."