Latin X
Local authors discuss their experiences as Latinx women and give advice to college students.
Cuyamaca College hosted the Latinx Women Writing History Panel as one of its Diversity Dialogue events for the spring semester. Four professors were invited to the event to discuss parts of their personal life and books they have published.
The first speaker was Patricia Santana, a former Cuyamaca professor and author of Motorcycle Ride on the Sea of Tranquility and Ghosts of El Grullo. Santana was born in San Diego and was raised in a family of 11 members.
She was motivated to read and write when she would pick up some of her older brother's books from college. One book in particular, "The Diary of Anne Frank," motivated Santana to write.
"My advice to you is when setting goals, surround yourself with people who support your dreams," Santana said.
Santana explained to the audience how her first grade teacher taught her how to read. She remembered during the
summer, this teacher would come to her house and bring a pile of books, encouraging her to continue to read.
Santana shared another event from her life: She wrote a story about her humble home and her ex-boyfriend from college who criticized her writing. While her writing was good,he did not believe she could be a writer.
She laughed with the audience, but encouraged writers to take creative writing classes.
"Writing was therapeutic for me… my diaries were my sanctuary," Santana said when explaining the importance of writing.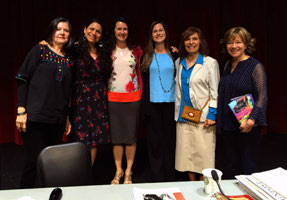 The second speaker was Irene Lara, professor at San Diego State University and author of Fleshing the Spirit: Spirituality and Activism in Chicana, Latina, and Indigenous Women's Lives. This book was co-edited with Elisa Facio, who passed away. It includes an additional 20 scholars, activists and healers from different Southwest states.
The book focuses on spirituality and activism in Chicana, Latina and Indigenous women's lives. It took 10 years
of hard work to finalize and publish this piece according to Lara. The purpose of the book is to inspire dialogue and lifelong spiritual activism. In addition, this book can help an individual find spirituality and find one's purpose in life.
Lara explained to the audience how she wishes she had this book when she was at undergrad school, for navigation and sustaining her body-mind spirit. Her advice for the audience was, to find out who you are spiritually and
emotionally. Chicana feminism influenced Lara to find spirituality.
Lara then explained the importance of remembering the language of our ancestors. People should not be afraid or embarrassed of speaking Spanish in public. Our ancestors were beaten for speaking Spanish, Lara explained.
Language is important for remembering the legacy of our ancestors. One final piece of advice Lara gave to the
audience is: "Define success for yourself. Most importantly, learn and ask from the lessons from your ancestors."
The third speaker was Rita Sanchez, a retired professor from San Diego State and co-author of Chicana Tributes: Activist Women of the Civil Rights Movement – Stories for the New Generation.
This book documents the experiences of different Chicana women who challenged injustice during different times. It took two years to put this book together.
Sanchez explained the importance of having a dream or vision of our own, adding on that finding mentors who
support our dreams is important. Sanchez shared a life event in which she wanted to be a journalist, so she talked to
her counselor about college.
Her counselor said: "You can't go to college, your family is poor. You shouldn't be thinking about college."
"She changed my major," Sanchez said. " I didn't give up, I went to San Jose State as the only Mexican-American on campus."
There will be challenges along the way, but never give up on your dream was the advice Sanchez shared with the audience.
"Write and save letters from everyone who wrote to you," Sanchez said. "Every story in our hearts should be written down because every story goes down in history."
Sanchez taught the first Chicana course at Stanford University. There were no textbooks on Chicano history, so she collected journal articles from her students and they published their textbook in 1973.
The fourth and final speaker was Sonia Lopez, retired San Diego State professor and co-author of Chicana Tributes with Sanchez. Lopez was the daughter of immigrants. She said she didn't know much about her background, but said she believed poverty was the reason she was a "bad student."
She said she wanted to be a teacher and not grow up to have a tough and hard job like her parents. In 1968, Lopez came to San Diego, but faced racism and discrimination because there weren't a lot of Mexican people in San Diego at the time.
Lopez began getting involved in student movements, but women would not get recognition like the men, even though the women did most of the work planning and organizing marches. Lopez became the first professor to teach Chicana studies at San Diego State. There were mixed feelings about having a this class at the university.
Lopez and her students were accused of hating men. Her advice was to follow your passion, do what attracts you. "No
matter where you come from find your path," Lopez said. "Backgrounds make a person much stronger." In this event, students learned about different struggles and experiences these authors went through and how they overcame these obstacles by having great mentors and never giving up.