Rumble
Documentary highlights the significance of Native music in modern rock.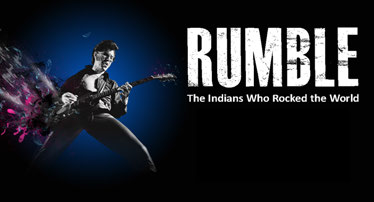 Cross-Cultural Studies and the Music Department presented the documentary "RUMBLE: The Indians Who Rocked The World" on April 25. The film illustrated the influence of Native Americans in popular music and sent a powerful message of how this stigmatized population retained its cultural traditions despite the aggressive measures taken by European intruders to exploit and repress them. It emphasized the incredible strength and endurance of
the human spirit.
The film began with a chronological depiction of how the Europeans and Americans instituted significant changes to the native identity and culture. By the 20th century, the U.S. government had taken stronger measures to disband, collate and isolate the tribes in an effort to quash the culture. Native pride, changed to shame .
Fortunately, stigmatized African communities formed deep alliances with Native Americans that enabled their musical traditions to continue. Each group incorporated cultural aspects to silently influence many styles of American music.
Vocalizations were a significant part of native music with percussion and rhythm accompaniments. One example is the "call and response" technique used by African slaves for covert messaging. Claiming African heritage and color enabled Native Americans to conceal their disgraced heritage from the general population. Bluesman Charley
Patton and jazz singer Mildred Bailey were early performers who hid their native genetics with African identity.
An iconic instrumental titled "Rumble" appeared during the emerging domination of rock n roll in popular music. It was performed by a Native American clad in a black motorcycle jacket and boots, dark glasses, sporting a cool pompadour and an attitude.
Guitarist Link Wray introduced power chords using distortion and feedback to create an iconic sound that influenced the direction of modern rock and many future musicians. Duane Eddy, Dick Dale, Ray Davies, Pete Townshend, Jimmy Page, Jeff Beck and Jimi Hendrix are prominent guitarists inspired by Wray's techniques. Despite the popularity of the instrumental, "Rumble" was banned in parts of the U.S. related to the controversial title that elicited negative referrals to street gang wars. The film shows a clip from the movie "West Side Story" portraying the beginning of a rumble between opposing gangs. Negative connections or not, Rumble remains an iconic, sensual and masterfully textured tune that is part of our modern musical heritage.
The documentary continues to spotlight iconic musicians with Native heritage interspersed with disturbing accounts and photographs of white America's attempts to suppress Native culture and traditions. Cameos from past and current musicians, associates and others with a deep connection to the roots of our music. The film concludes by
honoring the contributions and suppressions Native people have endured and a hope of the resurgence of the cultural influence and significance in the U.S.